UPDATE: Ampersand, the cat with a soft spot for kids who loved watching over her foster mom's baby daughter, now has a "baby" of her own. A family in upstate New York read her blog and has now adopted her. "Once I read about Ampersand and saw her picture, I just felt like she's the one for our family," said her new mom in her adoption application. We agreed wholeheartedly, and a PETA staffer recently took Ampersand on a road trip up the East Coast from PETA's headquarters in Norfolk, Virginia, the Sam Simon Center, to Peekskill. She now has a little boy to "take care of" and from the looks on their faces, they both seem pretty pleased with the arrangement.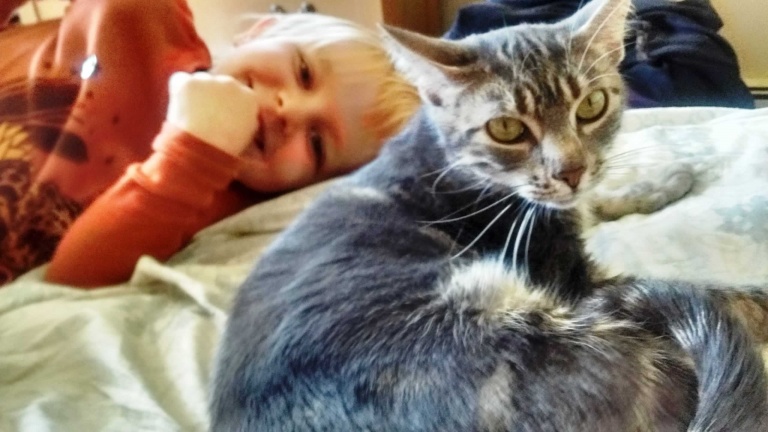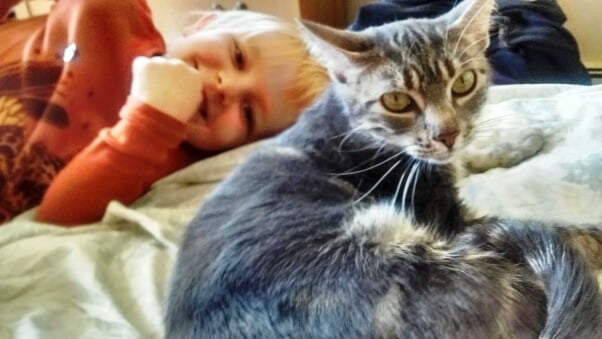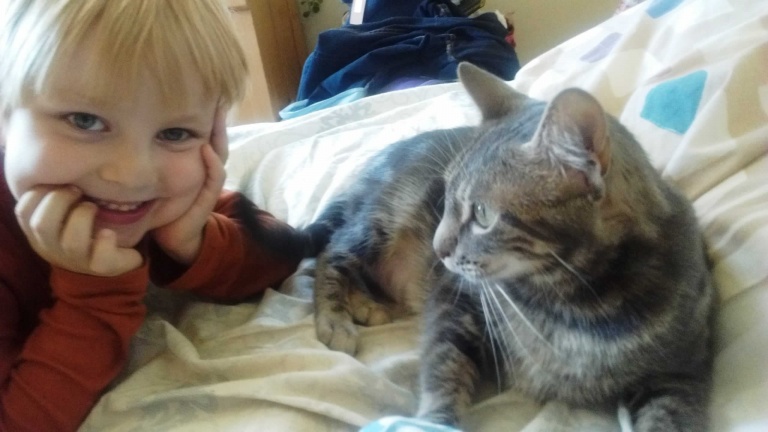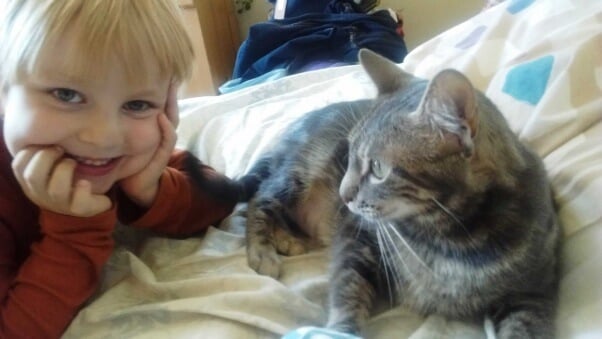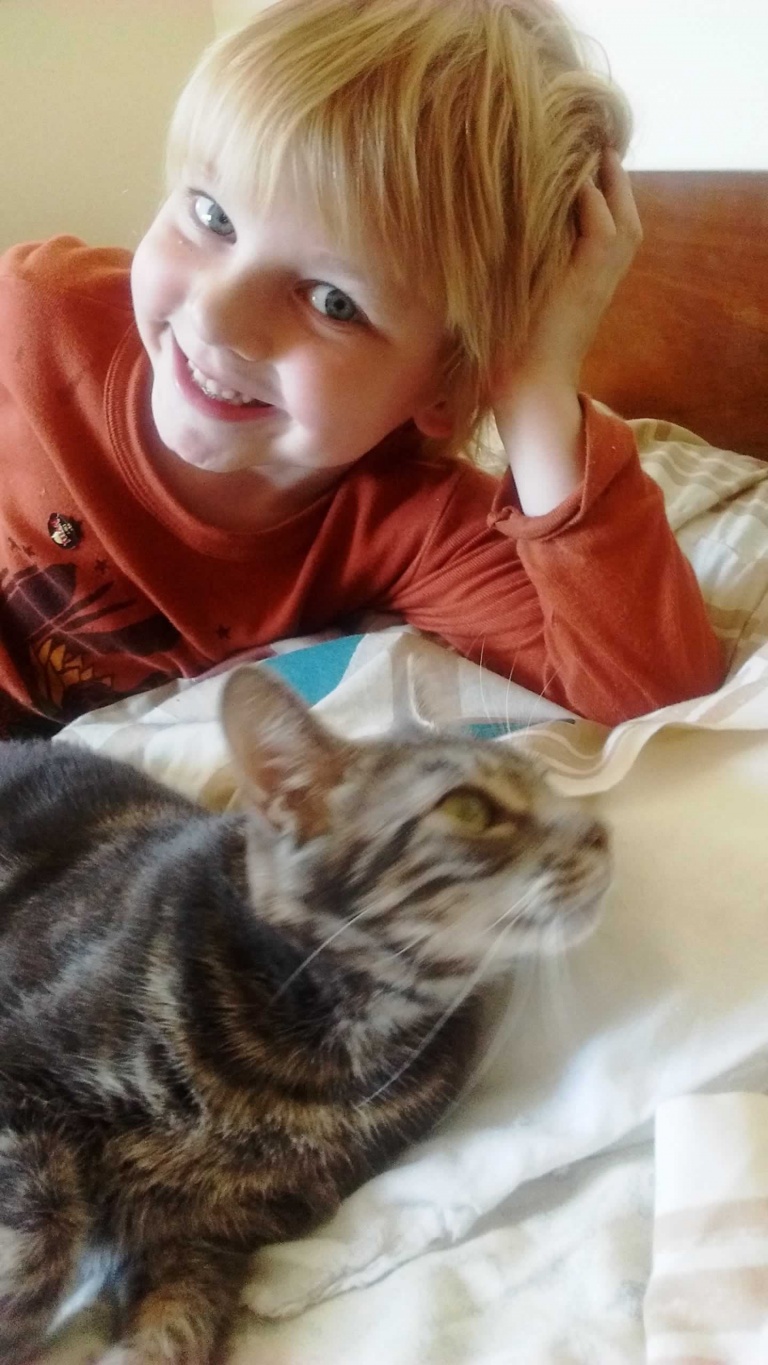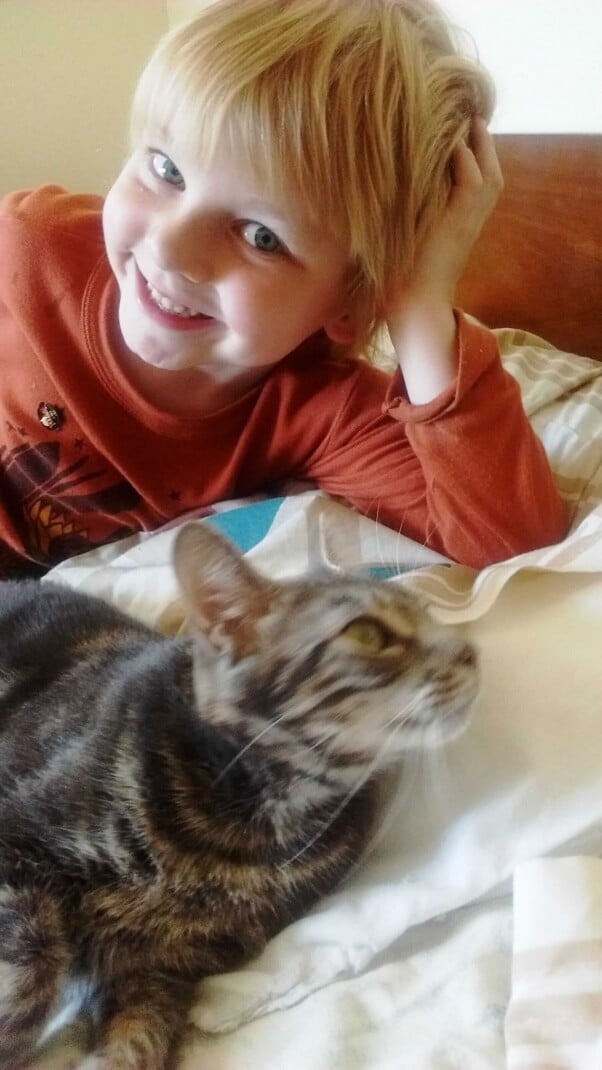 "We are just loving Ampersand so much," says Ampersand's new guardian. "She is such a sweet girl. … She was the perfect fit for our family."
Originally posted on June 13, 2016
It's a story that every animal shelter worker has heard over and over again: The family is expecting a child, so their four-legged "baby"—i.e., cat or dog—has now been rendered redundant and has got to go. Such was the case with Ampersand, a quiet, unassuming young cat, who suddenly found herself unceremoniously uprooted when her guardian became pregnant.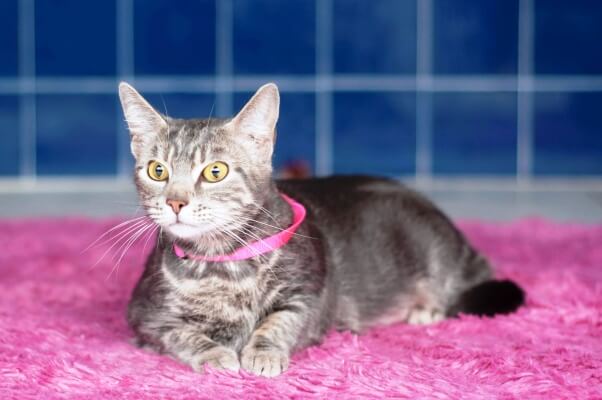 Ampersand was initially passed along to a family member, who proceeded to move into an apartment that didn't allow animals. To make matters worse, her boyfriend threatened to abandon Ampersand outside. Fortunately, the woman had the sense to call PETA. That's when Ampersand finally got the chance to prove to the world that her original guardian's fears about conflicts between her and the baby-to-be were totally unfounded.
Because, as it turns out, Ampersand loves babies.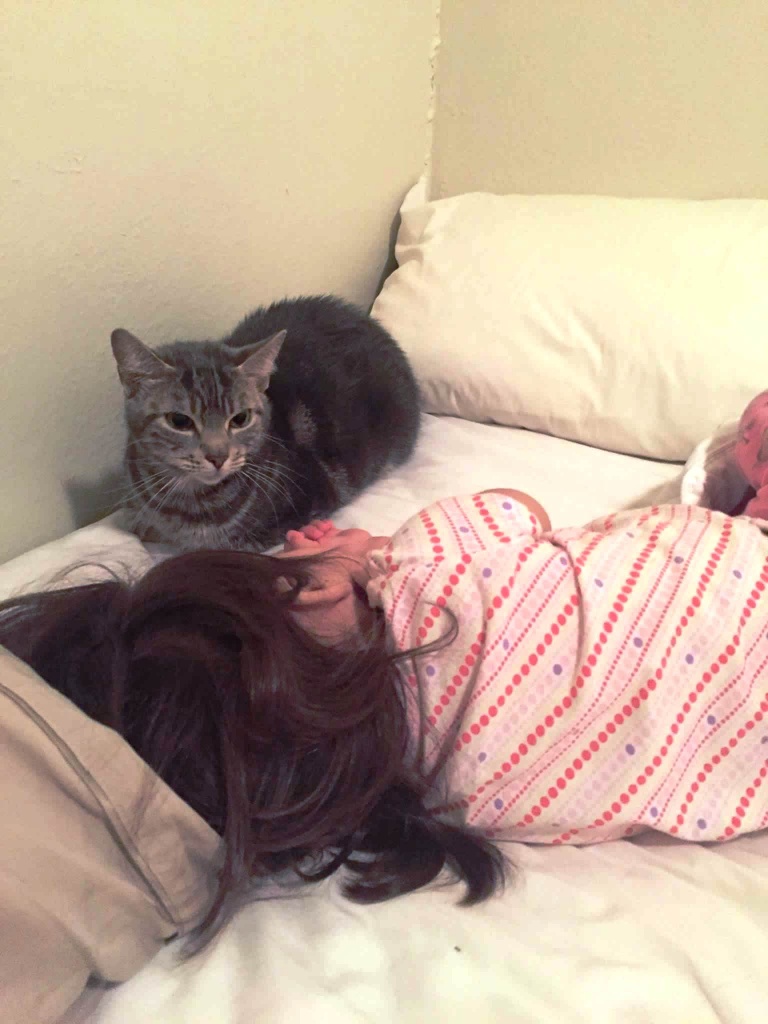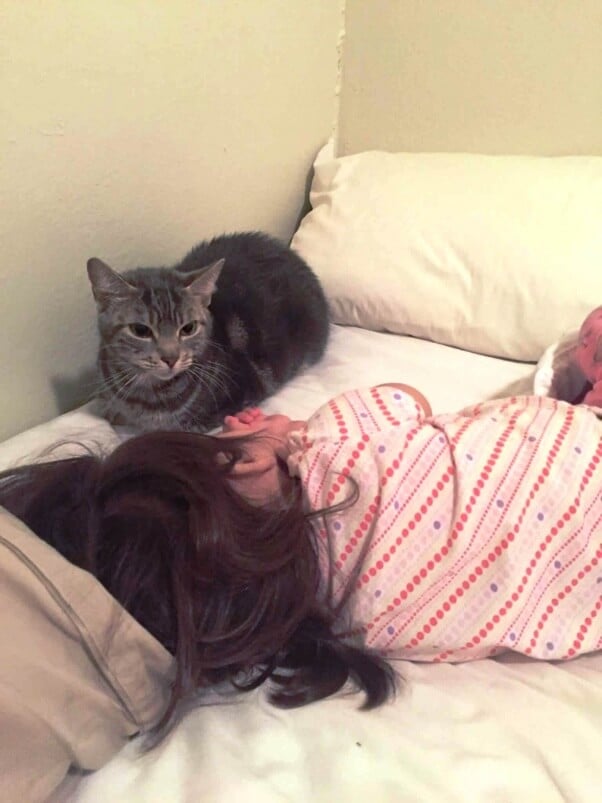 Ampersand is currently being fostered by a PETA staffer with a toddler, and the kitty and child get along like guacamole and tortilla chips. She was a little shy at first, but she's gradually coming out of her shell. She loves to "stealth snuggle" at night when everyone is sleeping, and she's working her way up to waking-hours snuggling, with the ultimate goal of 24-hour snuggling—when she isn't indulging in her one main weakness, rolling in catnip. But she especially likes keeping an eye on the napping baby.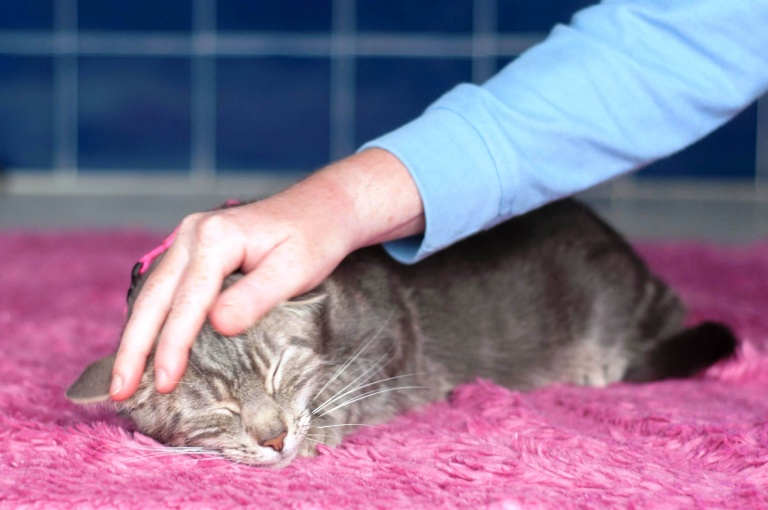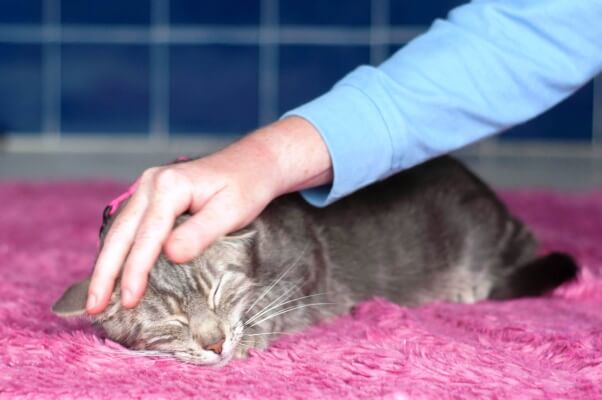 Ampersand doesn't seem to have had much experience with toys in her short life, so she's still figuring out what to do with them. She's a fast learner, though. When she's happy, she emits an endearing little purr that sounds like cooing pigeons.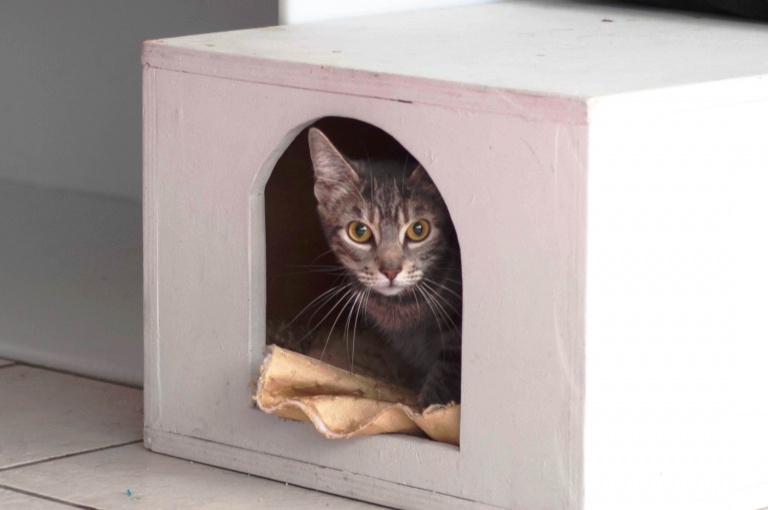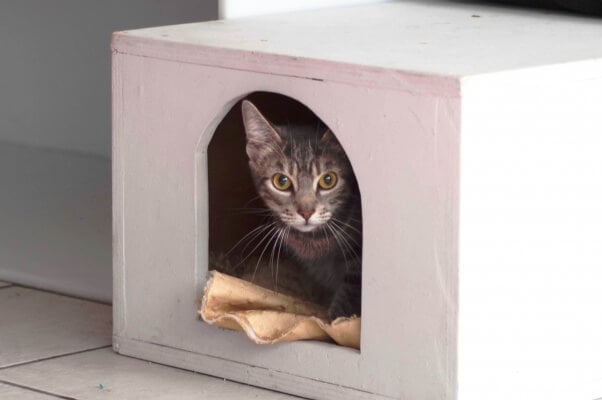 As much as Ampersand loves guarding her foster baby, she needs a permanent family to take care of. E-mail [email protected] to find out more about engaging this feline Mary Poppins. Not even a spoonful of sugar could make her any sweeter.