My friends, this is breaking news. There looks to be a serious correlation between the Phillies' year-end season ranking and the ranking of Citizens Bank Park (home field of the Phillies) on PETA's annual list of the Top 10 Vegetarian-Friendly Ballparks.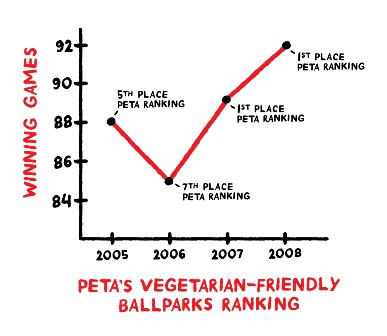 If you'll take a gander at the nifty graph above, you'll see that 2005 was the first year in which Citizens Bank Park cracked PETA's Top 10, landing firmly in fifth place. The Phillies also improved their record that year. In 2006, despite adding veggie dogs to their munchies lineup—which already included flame-grilled Gardenburgers—Citizens Bank Park slipped a bit in our ratings, landing in seventh position. Subsequently, the Phillies record slipped three games. Coincidence? I think not.
In 2007, Kevin Tedesco, the head of Citizens Bank Park, took it up a notch and added a groundbreaking, delicious faux-steak sandwich piled high with grilled onions, mushrooms, peppers, and hot sauce. And Citizens Bank Park finally won the coveted title of the most vegetarian-friendly ballpark—and the players did pretty well for themselves, too, finishing with their best record in years and earning a spot in the playoffs.
During that offseason, Tedesco signed some huge free agents, including mock-chicken sandwiches and "crab-free crab cakes." (Of course, we don't want to forget the role-players, including hoagies with roasted veggies, soups, salads, "The Poppy" sandwiches—featuring roasted eggplant, roasted red peppers, sun-dried tomatoes—and PB&J for the kids.) The results? Citizens Bank Park took home a resounding victory in Veg Ballparks, and, well—you heard it hear first, folks—the Phillies won the World Series.
What will Tedesco do next year for an encore? Perhaps add pizza with soy cheese? A Gardenburger riblet sandwich on a toasted bun? We don't want to put any pressure on our favorite Philadelphian, but if he continues to stack up the protein-packed, cruelty- and cholesterol-free offerings, we're thinking that Cole Hamels and company might sweep every round of the playoffs in 2009. If you want your home team to offer more humane veggie options (and maybe win the World Series!) be sure to shoot them a note with some tasty ideas.
Written by Jennifer Cierlitsky