In honor of Thanksgiving, we want to share with you one of the things that we're really, really thankful for: Awesome activists doing awesome demos!
Take this recent demo in Albuquerque, where a pair of PETA "turkeys" handed out succulent soy-based Tofurky roasts to lucky passersby. The demo was part of the traveling twosome's multicity "Turkey Drive": To avoid ending up as someone's Thanksgiving dinner, the two feathered fugitives were breaking for the border "Thelma and Louise"–style in a red convertible with a sign reading, "Mexico or Bust!" Their goal? To persuade as many people as possible to give up the giblets today in favor of a vegetarian Thanksgiving feast. And by the enthusiastic response they got from the press and passing peeps in New Mexico (every single person interviewed by the Fox News reporter said that they were already vegetarian or didn't eat turkey!), it's a safe bet that there's a lot of Tofurky being gobbled down in Albuquerque today. Which makes this plucky pair very, very happy.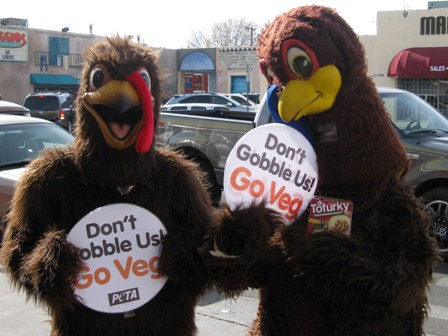 While we're on the subject of "Turkey Drives," check out this banner that activists hung in Orlando to convince travelers to give birds a break.
Turkeys aren't the only animals who need a helping hand this holiday season. Recently, a herd of "ele-friends" got together to protest the death of Mac, a 2-year-old elephant born at the Houston Zoo.
Animals in circuses have nothing to be thankful for either.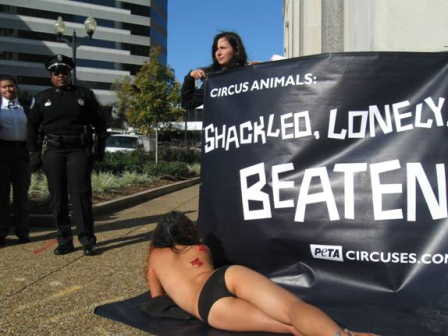 In the words of one cyclist who happened upon our Albuquerque Turkey Drive, "Tofurky? Hell Yeah!" Happy Thanksgiving, y'all!
Written by Amy Elizabeth