New York Fashion Week is always a busy time for PETA, as we urge designers, retailers, and clients to be compassionistas by shunning clothing and accessories cruelly made from animal fur and skins. If, like me, you were unable to attend (my invitation must have gotten lost in the mail), here's some of what you missed:
There were plenty of shows by fabulous fur-free designers like Ralph Lauren, Tommy Hilfiger, Calvin Klein, Perry Ellis, Charlotte Ronson, Richie Rich (featuring a guest appearance by Ellen DeGeneres!), Betsey Johnson, and Tibi. And the Project Runway show was completely fur-free, of course.
We handed out leaflets seemingly everywhere—including outside still-furry (and seriously overtanned) Michael Kors' show.
Anyone who missed our other appearances would be hard-pressed to ignore our "Animal Prints, Not Animal Skins" demonstration at Lincoln Center (for which, if you love it as much as I do, you can show your support by voting here):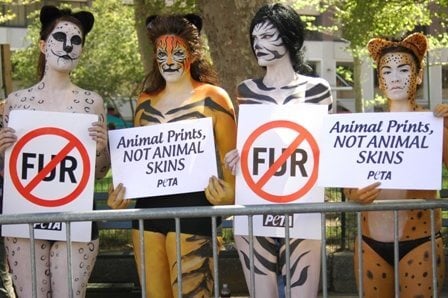 Although, in the bizarro world of fashion, this late-summer show was displaying spring lines, and we should be seeing less fur this winter—as Karl Lagerfeld said during Paris Fashion week in January, "For the winter, the big trend is fake fur. Not real fur, fake fur." So even the holdouts need to be ready to flaunt their faux and shed their skins, and we've got 'em covered!
Written by Jeff Mackey