Update 2:
Following a successful stint at the Kansas State Fair—during which people were able to watch video footage of factory farms—PETA has voluntarily dismissed its free-speech lawsuit against the fair. Many fairgoers were pleased to receive the free vegan and vegetarian recipes. Most tellingly, the majority of the farmers who watched PETA's footage admitted that they couldn't pledge that their own animals weren't being slaughtered in the same violent and haphazard ways. 
While maintaining that the fair's requirement to screen the video inside a tent constitutes a content-based restriction in violation of free-speech rights, PETA is pleased with the final outcome. In fact, publicity over the fair's censorship may well have driven more traffic to the booth, allowing PETA to reach an even wider range of Kansans with information about the cruelty of factory farming and slaughter!
Update: After Kansas State Fair officials failed to respond to letters asking them to remove restrictions forcing PETA to shield video footage showing animal slaughter from fairgoers who pass by its booth, we filed a federal lawsuit to stop the fair from violating our right to free speech. PETA also submitted a motion asking the court to block the restrictions imposed on our booth for this year's fair, which starts September 7.
The American Civil Liberties Union (ACLU) of Kansas and Western Missouri is representing PETA for free, along with Kansas City law firm Copilevitz & Canter. As Doug Bonney, legal director for the ACLU of Kansas and Western Missouri, put it, "I've never seen anything like this—this is a classic content-based restriction on what the speaker can say, which I think is unconstitutional."
We'll keep you posted!
Originally posted August 16:
Turns out that Iowa's not the only state that objects to the idea of fair visitors learning the ugly truth about how meat is made. After the Kansas State Fair sent a letter insisting that PETA could have a booth only if any pictures or videos "that depict animal slaughter, animal harvest, hide removal, or show or depict live animals being decapitated, dismembered or butchered" be shielded from view unless people specifically choose to view them, our legal team fired back a reply demanding that the decision be reversed because it violates PETA's constitutional right to free speech.
Here's the deal: The state has established the fair as a public forum, and the right to free speech requires that there be no content-based censorship in a public forum. Consider, too, that fair officials don't appear to be making the same demand of other exhibitors, meaning that it's only PETA's content that they're trying to squelch. Plus, fairgoers deserve to know how much the animals who were raised and killed for their cheeseburgers and chili dogs suffered—though I guess that last point isn't actually a legal issue.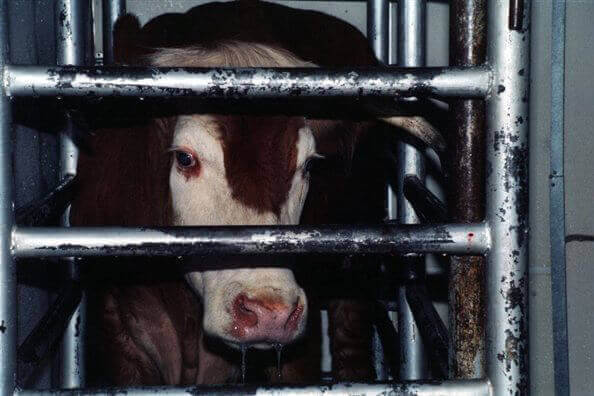 What You Can Do
Looking for an effective, unmistakable way to express your disgust at the way animals are abused on factory farms and in slaughterhouses? Go vegan!