"I saw the two most miserable bears I've ever seen," begins a new video from PETA that shows two bears unable to escape the blistering heat at Wilson's Wild Animal Park, a roadside zoo located in Winchester, Virginia.
On the hot and humid day on which the footage was taken, the temperature of concrete around the roadside zoo climbed to 110 degrees. In one of the facility's small, concrete enclosures, one bear lay on her back, her stomach heaving, while the other climbed into a metal trough that contained only enough water to wet her abdomen. Panting heavily in their thick fur coats, the bears were left to bake in the heat.
Deprived of Life
In the wild, bears cool off by swimming in ponds and creeks, retreating to caves, and digging dens in cool earth—none of which they can do at this facility. At this roadside zoo, the bears could only chase a sliver of ever-shifting shade around their pen.
The video, which calls out Virginia authorities for failing to safeguard the bears' welfare, is being released after the U.S. Department of Agriculture (USDA) cited the roadside zoo for violating federal law by failing to provide these bears with adequate space.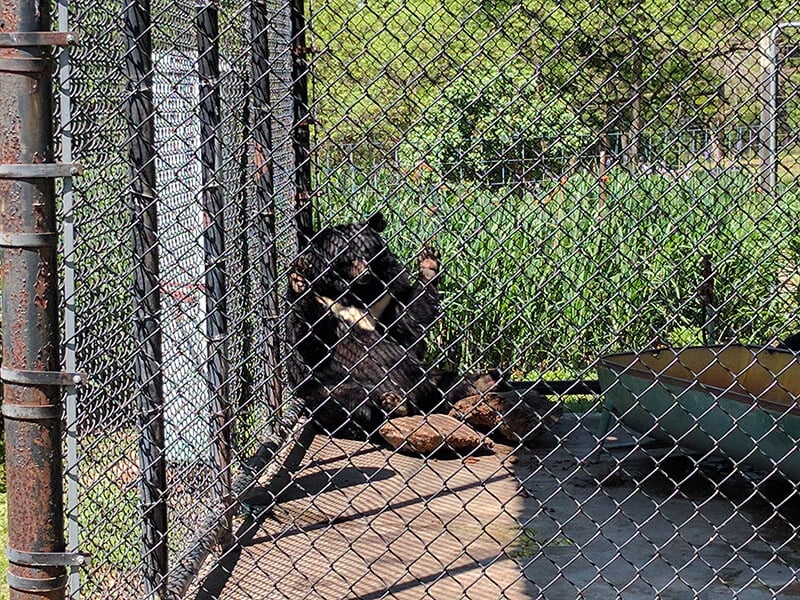 Authorities have ordered the facility to provide the bears with additional space, structures to climb on, and substrate to dig in—but so far, it apparently plans only to expand the current concrete pen slightly.
The USDA also cited the roadside zoo for failing to have a sufficient number of adequately trained staff. During the inspection, only one keeper was present to care for approximately 175 animals.
What You Can Do
Animals held captive in roadside zoos are denied their fundamental right to freedom and everything else that makes their lives meaningful. Kind people can help by refusing to visit the despicable Wilson's Wild Animal Park or any other roadside zoo.
PETA is demanding that Virginia authorities move these bears to a reputable sanctuary, but you can help these animals by contacting the facility today.