UPDATE: After twice suspending wool purchases following PETA exposés of extreme cruelty to sheep— the last of which showed workers at a Patagonia-approved wool producer's shearing operation violating the brand's own publicly touted welfare standards—Patagonia has resumed operations but refuses to divulge its new sources of "responsible" wool, despite repeated appeals for transparency.
In letters to Patagonia CEO Rose Marcario, PETA points out that disturbing video footage and photographs taken at a Utah sheep-shearing operation used by Red Pine Land & Livestock, LLC—which Patagonia previously lauded as "excellent partners" that met the brand's "rigorous criteria"—showed pregnant sheep being dragged by their fleece into a trailer and dropped onto its hard floor. Sheep were sheared at such high speed that most were left with bloody wounds. Other video footage shows animals being whipped on their heads, backs, and hindquarters as well as a lamb's carcass rotting in a shed and sheep skeletons and shotgun shells strewn on the ground. This treatment of animals clearly violates numerous provisions of the "Responsible Wool Standard"—which Patagonia says it has adopted.
Clearly, Patagonia isn't anxious for PETA to show the public what's happening on its suppliers' farms.
We suspect that Patagonia's "standards" will prove to be a sham once again. PETA has demanded that the company be transparent—or, better yet, stop using wool in favor of the many high-quality cruelty-free fabrics now available.
Eleven exposés of 99 sheep operations on four continents have revealed that sheep are regularly beaten, kicked, punched, and mutilated in the wool industry. Shearers are often paid by volume, not by the hour, which encourages fast, violent work that can lead to gaping wounds on sheep's bodies. Workers then stitch the gashes closed without giving the animals any painkillers.
Originally published on July 14, 2017:
In April 2017, PETA observers visited a Utah shearing operation involving sheep associated with Red Pine Land & Livestock, LLC—which was listed on Patagonia's website as an approved supplier until it learned that PETA possessed videotape showing clear violations of its own "welfare standards." Eyewitnesses recorded heavily pregnant sheep being whipped, sent stumbling down slippery ramps, being sheared so quickly that most sustained bloody wounds, and being driven out into the desert to give birth in freezing temperatures with virtually no coat to protect them.
This treatment violates the letter, intent, and purpose of the so-called "Responsible Wool Standard" (RWS)—which Patagonia adopted as a "baseline" standard—and the Patagonia Wool Standard (PWS).
On Wednesday—when the story broke in Outside magazine—PETA sent Patagonia's CEO, Rose Marcario, a letter detailing the findings, including the specific violations of the RWS and PWS (see below). Rather than taking responsibility for what was depicted, the company asserted that it had "parted ways" with the supplier in March 2017—one month before PETA's eyewitness investigation—"on issues not related to animal welfare." Patagonia failed to acknowledge that it had previously stated that it had carefully vetted Red Pine, identified it as being "knowledgeable and passionate about animal welfare," and lauded it as an "excellent partner."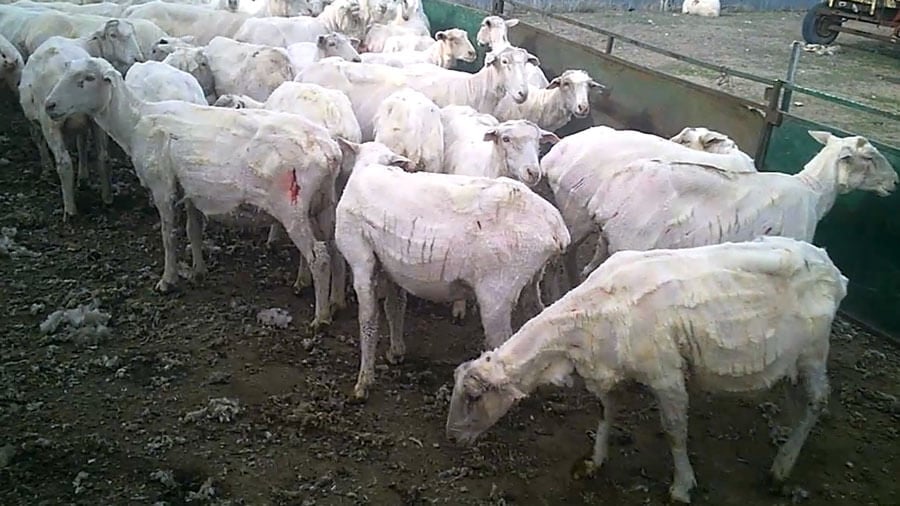 This isn't the first time that Patagonia's cruel wool sourcing has been exposed. In 2015, PETA's exposé of farms that supplied so-called "sustainable" wool to Patagonia showed workers ramming knives into conscious lambs' throats and starting to skin the animals while they were still alive and kicking. The company cut ties with that farming network after our exposé but once again began obtaining wool—including from Red Pine, the subject of our new investigation— and misleading caring consumers by marketing the wool as "responsible." Obviously, there is nothing "responsible" about slamming heavily pregnant sheep to the floor and leaving them without a coat when they're about to give birth in freezing temperatures or approving shearing that results in bloody cuts (up to 5 inches long) near their tails and on their udders, ears, necks, and torsos—all in violation of Patagonia's own "standards."
PETA has attempted to work behind the scenes with Patagonia over the years, including offering to send our veterinarians on sheep-farm and slaughterhouse visits to assess conditions, but the company has refused all such cooperation. PETA has an obligation to expose the sham of animal skins marketed as "responsible"—marketing schemes that target and dupe compassionate consumers into supporting cruel actions. In the last few years, we have released exposés of dozens of facilities on three continents revealing that sheep are mutilated, abused, and skinned alive for wool, including for wool supplied to Patagonia that had been deemed "sustainable" and, more recently, "responsible."
This latest case and Patagonia's response to it is just more evidence that despite so-called "welfare standards," supposed independent audits, and company marketing claims, there is no such thing as "humane" or "responsibly sourced" wool or animal skins. Customers are told that Patagonia's mission is to "cause no unnecessary harm … and implement solutions to the environmental crisis." Yet adopting standards and auditing farms do not eliminate the harm, and wool production is exacerbating the environmental crisis. Sheep are ruminant animals with digestive systems that constantly generate methane, a greenhouse gas 25 times more potent than carbon dioxide. Additionally, sheep require energy-intensive feed grown with large amounts of chemical-laden fertilizer, and they generate massive amounts of manure, which create even more pollution of the land, water, and air.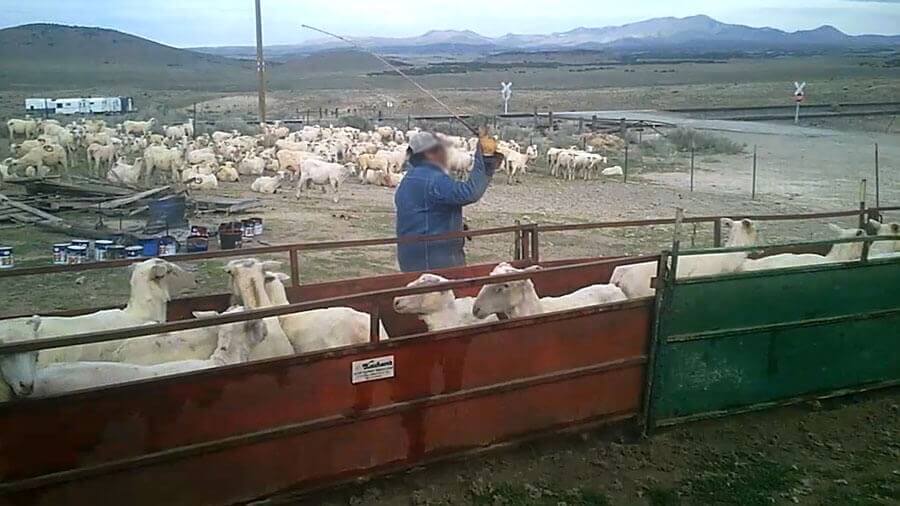 To eliminate the cruelty inherent in the supply chain, retailers must stop using wool and instead turn their focus toward innovation and the development of materials that are not derived from animals.
We encourage consumers to shop compassionately by buying only vegan products. Please take a moment to post polite comments on Patagonia's blog urging the company to cut ties with the abusive wool industry.