As Martin Luther King Jr. said, "Injustice anywhere is a threat to justice everywhere." And he would know: One of his closest mentors, Bayard Rustin, was openly gay—and keep in mind that this was in the early 1960s. After King's death, his friend Rosa Parks went vegetarian, and his widow, Coretta Scott King, and son, Dexter Scott King, both went vegan to protect animals from subjugation and abuse.
PETA has been hitting gay-pride festivals across the country to show our support for the rights of all individuals to be free from discrimination, harassment, and harm. 
In San Francisco, we celebrated the repeal of the Defense of Marriage Act and helped proud Californians put a new twist on a familiar mantra: "We're Here, We're Vegan, Get Used to It."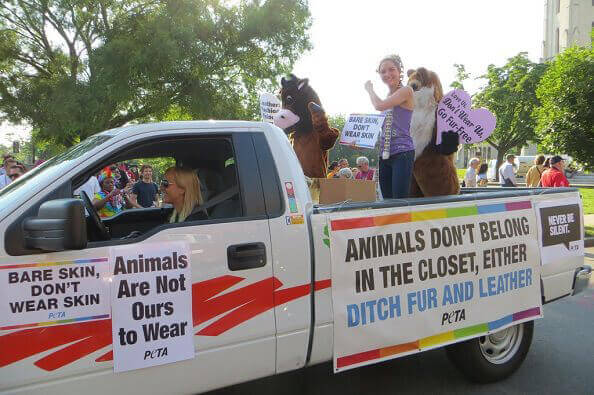 In Washington, D.C., our fox and cow shook their tail feathers to help gay-pride parade attendees shake fur and leather. 
In Boston, our sultry strawberry and precocious pig made people proud to eat produce.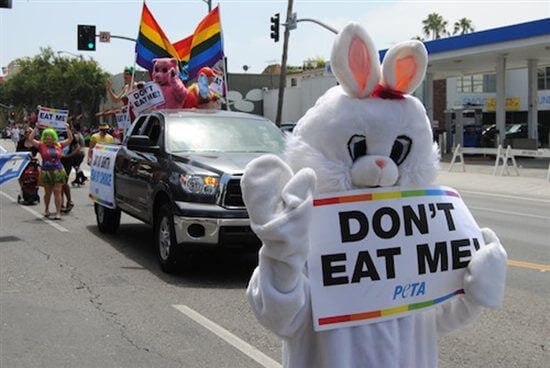 In Los Angeles, our animal mascots carried signs reading, "Don't Eat Me!" while our human participants got cheeky with their own version, which read, "Eat Me!"
Attendees at each festival clamored for PETA Pride T-shirts and Pride dog bandanas, vegetarian celebrity leaflets featuring Ellen DeGeneres, DVDs of "Glass Walls," vegetarian/vegan starter kits, and loads of stickers. And judging by the high-fives, fist bumps, cheers, and whistles that we got, people at Pride were proud to rep PETA, too.
Check out PETA's original Pride-themed gear to show that, like MLK, you're a proud advocate for justice for all.