PETA President Ingrid E. Newkirk put her money where her mouth is—in a very literal sense—in an eye-catching protest outside British retailer Fortnum & Mason's Piccadilly store this week.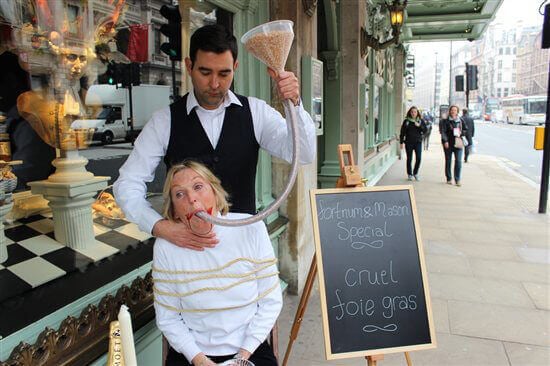 The protest illustrated what geese endure while they are being raised for the foie gras sold in Fortnum & Mason stores. But in order to replicate fully how foie gras is produced, Ingrid would have had to be force-fed several times a day for weeks until her diseased liver had painfully swelled to up to 10 times its normal size.
The process is so cruel that it's illegal in the U.K., but Fortnum & Mason continues to sell foie gras imported from France, where a recent PETA U.K. investigation documented the confinement of geese to crowded, filthy pens and their slaughter while still conscious.
High-profile British venues, including the House of Lords, the House of Commons, the Royal Shakespeare Company, Wimbledon, Lord's Cricket Ground, and all the residences of His Royal Highness Prince Charles, refuse to serve foie gras, and retailers Harvey Nichols, Selfridges, House of Fraser, and Jenners refuse to sell it. PETA UK won't stop until it has added Fortnum & Mason to that list.