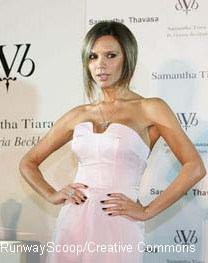 A little drama unfolding in the UK this week: Celebrity chef Gordon Ramsay, who is a good friend of Victoria Beckham (a.k.a. Posh Spice) has found himself in a bit of a pickle after asking Victoria to let his lambs graze on the land at her home in Hertfordshire because his own London garden was too small. Victoria was perfectly happy to oblige … until she found out what Ramsay intended to do with the lambs that she had grown to love (fricassee them, to be precise). As her spokeswoman put it:
"She was more than happy to let the sheep roam around her grounds, but as a devout vegetarian, she will be distraught to learn that they're going to be killed."
And now PETA Europe has joined the fray, with the following quote from PETA Europe Director Poorva Joshipura making the rounds of the British press:
"People are rallying to spare the lambs Posh grew to love. With soy 'lamb' kebabs and marinated mock meats, everyone wins, including the animals."
Maybe there's hope for these lambs yet. Thank you Victoria, for bringing their plight to the public's attention! You can read the full story here.