In light of the new policy issued by the Association of Zoos and Aquariums (AZA) that will minimize contact with elephants as well as the use of bullhooks in AZA-accredited zoos, PETA is renewing our call to the Occupational Safety and Health Administration (OSHA) to make protected contact a requirement for circuses, traveling shows, and non-AZA facilities.
With protected contact, there is always a barrier between handlers and elephants, which is not only more humane but also much safer for both species. Bullhooks—heavy batons with a sharp metal hook on the end—are never used to beat elephants into compliance.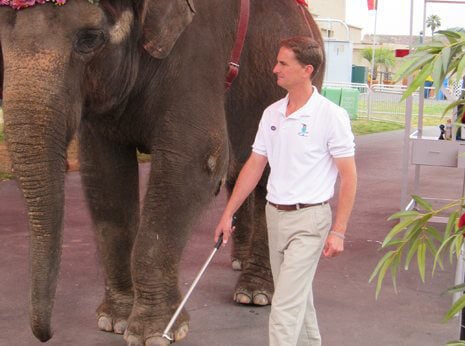 OSHA—whose mandate is to protect workers—has acknowledged that "the issue of workers exposed to large animals [is] a serious occupational health and safety concern," but the agency nevertheless rejected PETA's previous call to require that captive elephants be managed in the protected-contact system.
Even if OSHA doesn't act, the AZA's policy should put an end to dangerous practices like the elephant rides at the Santa Ana Zoo, which are provided by an outfit called "Have Trunk Will Travel" that has been caught on video beating elephants with bullhooks. But the policy doesn't fully go into effect until 2014, and elephants can't wait. Please urge Santa Ana Zoo officials to stop the cruel and dangerous rides without delay.
Written by Jennifer O'Connor