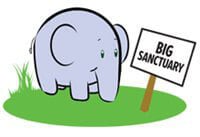 PETA loves gaming as much as anyone, but Tiny Zoo, which glorifies keeping animals in cages, doesn't make us LOL. Although no actual animals in Tiny Zoo suffer as a result of being bought, bred, and sold, some players may get the idea that captivity is cool, and that's far from reality. 
We've suggested a better version: Big Sanctuary, in which players would become heroes by rescuing animals from bad situations, relocating them to a sanctuary, and overseeing their rehabilitation.
PETA has already scored for pit bulls in the popular Mafia Wars Facebook game, and we schooled Cooking Mama on the wonders of vegan cooking and Super Meat Boy on why tofu always wins out.
Please e-mail the makers of Tiny Zoo and tell them that Big Sanctuary is one game that you'd be eager to score.
Written by Jennifer O'Connor