Where others see problems, PETA sees possibilities. Case in point: The Kennedy Space Center is looking for tenants for some of its facilities left vacant by the end of the shuttle program, so PETA has inquired about renting a vacant repair hangar or other building there—so that we can turn it into a memorial for the chimpanzees (in)famously abused for violent crash tests and experimental flights in the U.S. space program.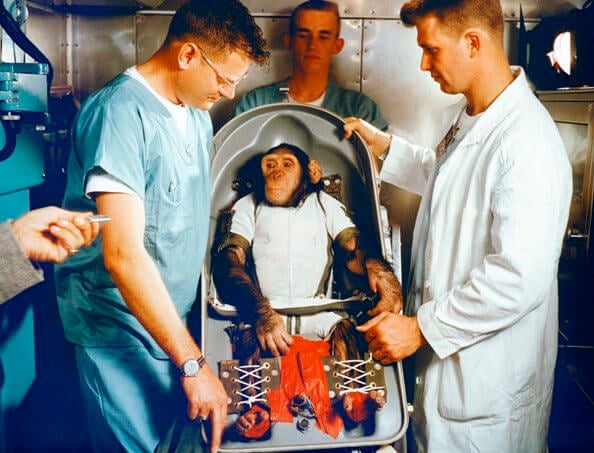 Courtesy of NASA
Houston, Apes Have a Problem
While NASA may have made the compassionate decision to stop experimenting on chimpanzees decades ago—more than a half-century after a chimpanzee named Ham was subjected to painful tests and then fired into space—nearly 1,000 of these highly intelligent and social animals continue to be tortured in laboratories across the country. PETA's proposed memorial would allow NASA to acknowledge its part in this shameful history—including the unfortunate role that the agency's breeding program had in creating a population of captive chimpanzees who subsequently spent decades being tormented in labs and whose offspring are still locked up—while helping to bring attention to the need for the United States to join every other industrialized nation on Earth in banning experiments on chimpanzees.
Toward that end, more than 160 senators and representatives have already signed on to support the Great Ape Protection and Cost Savings Act. Passage of this important legislation would permanently end the use of chimpanzees and all other great apes in invasive experiments, retire federally owned apes to sanctuaries—where many chimpanzee refugees from the space program are already lucky enough to reside—and save taxpayers millions of dollars a year.
How You Can Help Great Apes
Please contact your U.S. senators and representative and urge them to cosponsor the Great Ape Protection and Cost Savings Act (H.R. 1513/S. 810) if they haven't already and to make sure that it becomes law.