It was a sunny day in Romania, as temperatures rose every hour. Around noon, it reached 104 degrees, posing a real danger to animals, particularly homeless ones as well as dogs on heavy chains in rural areas, where they're exposed to the scorching sun—dogs like Paulina.
After spaying and neutering some dogs, the PETA Helps Romania team, including its deputy project manager, Jana Hoger, returned to a small, rural Romanian village to check on the animals they'd treated in order to ensure that they were healing well after surgery. They also wanted to make sure the dogs had enough food to eat and water to drink during the hot summer day. In addition, some of them might need a new doghouse, which the group provides, for shelter.
Dog Tied Up for Years
On one property that Jana and her team visited, a family was living in very basic conditions. Two dogs, who had been sterilized by the team some days ago, were running around the yard and seemed to be in good spirits. But then Jana noticed a small dog tied to a heavy metal chain, peeking out of a barren shack with fearful eyes. Exposed to the smell of her own excrement day in and day out, she was surrounded by flies. She looked to be an old dog, and she had apparently been living in filthy conditions for more than five years. Her name was Paulina.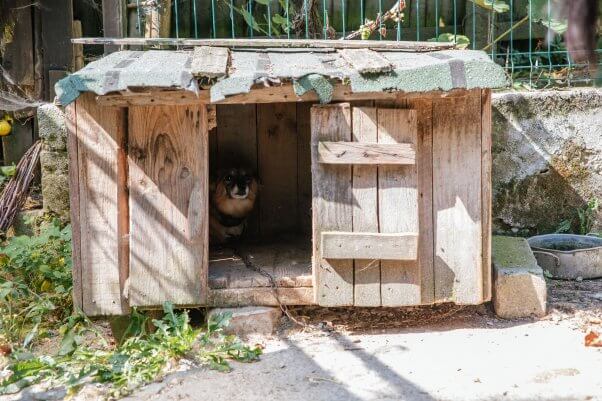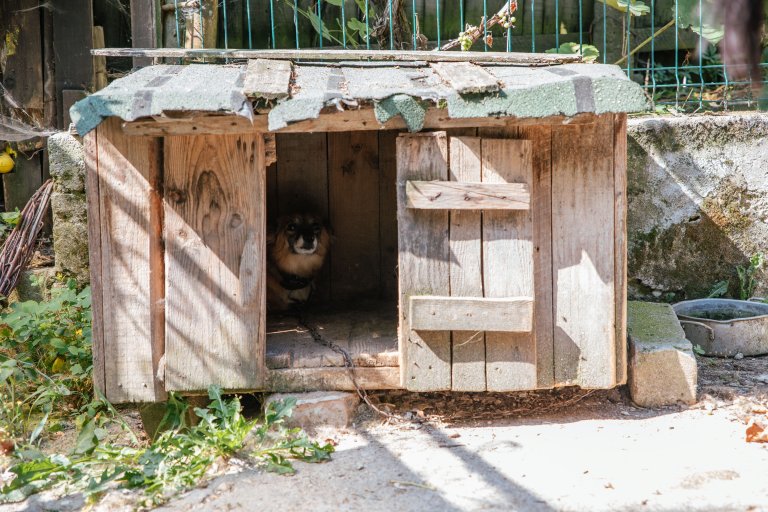 The Rescue: 'You Don't Have to Be Afraid Anymore'
Jana sat down beside the shack and talked to Paulina calmly, helping her to understand that she didn't have to be afraid anymore and that the strange humans in her yard were there to help. Although Paulina was emaciated, it was apparent that she had given birth to many puppies over the years.
Jana and her team talked to Paulina's owners and asked if they would allow them to give the small dog a loving new home, where she would finally be free from chains and appreciated. The owners told Jana that they'd been keeping Paulina as a home alarm system and that she didn't even know what life was like off a chain.
Then the small senior dog came closer to Jana, slowly and carefully, sniffing her and showing signs of curiosity and interest. Jana talked to her and petted her, and as Paulina came out of her shell, she almost seemed to understand that this day would be the beginning of a new life for her.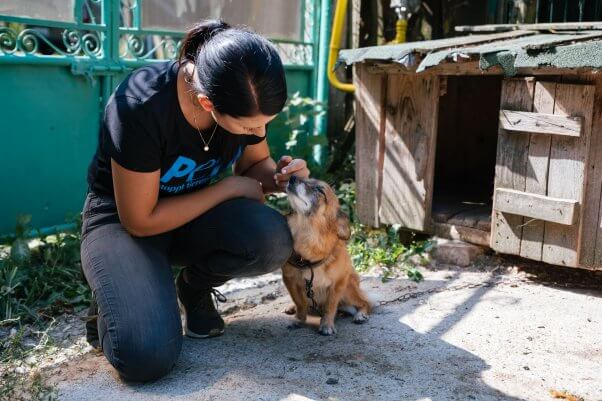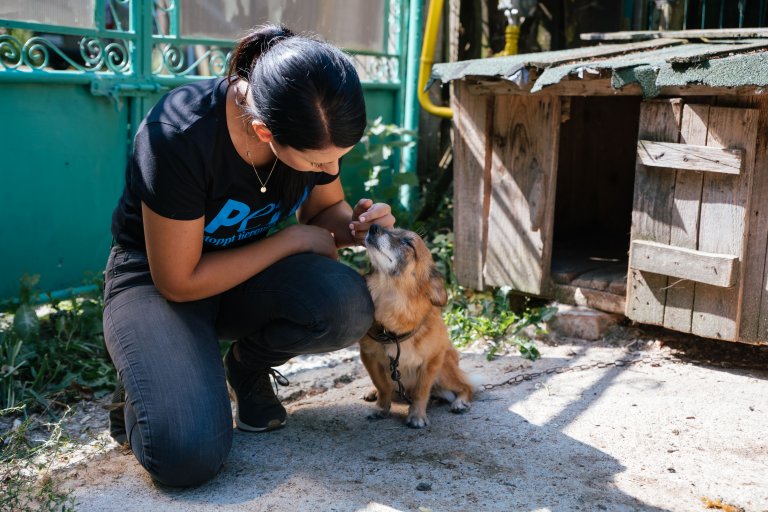 Paulina Gets a New Home
After some back and forth, the family agreed to surrender Paulina. So Jana untied the heavy chain around Paulina's neck, gently lifted her up, and carried her to the car. After a medical checkup, Paulina stayed in quarantine for a few days before meeting the other animals in PETA Helps Romania's emergency station. Sometimes, it seemed like Paulina couldn't believe the turn of events.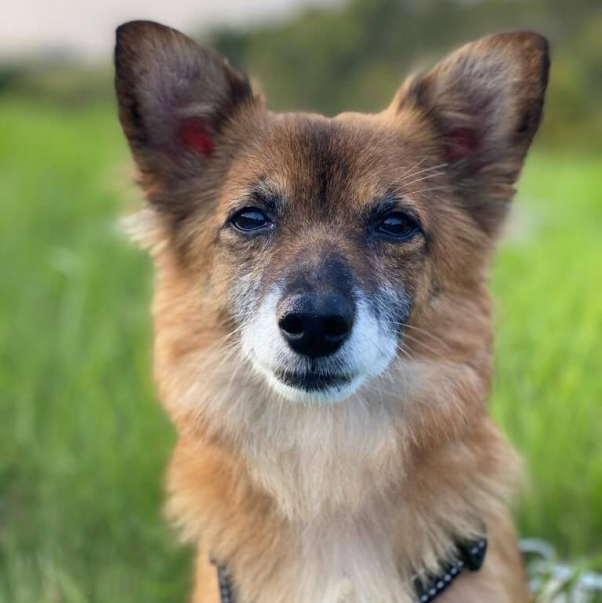 A New Life for Paulina
A few weeks later, Paulina was enjoying the life every dog deserves. She quickly found her way to the bed, the sofa, and her food bowl—as well as into everyone's heart. We don't know who seemed happier, Paulina or her new loving guardians.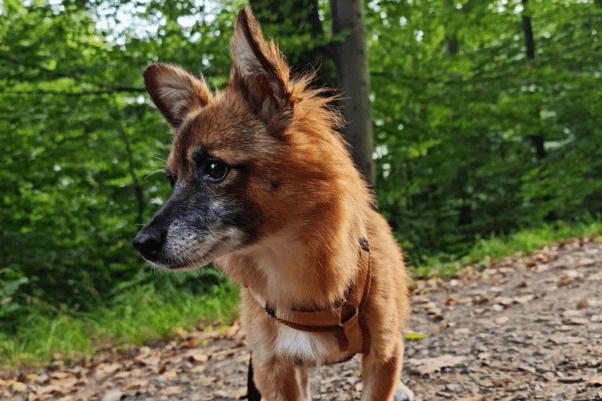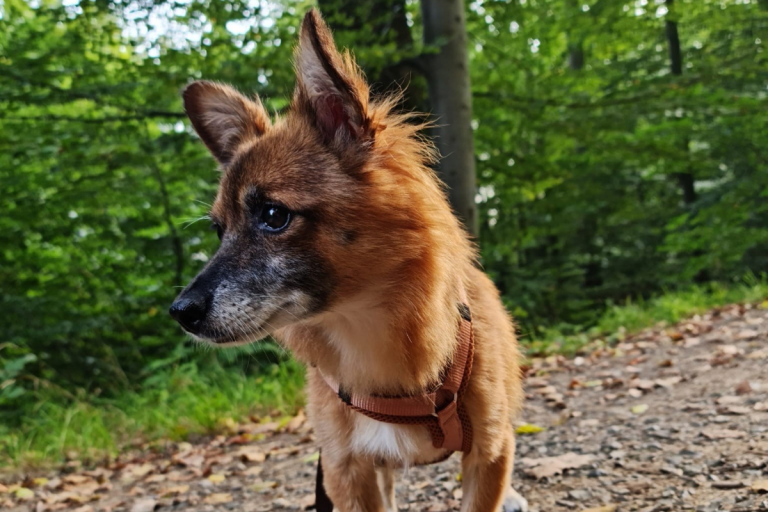 Jana and her team are overjoyed that they crossed paths with Paulina on that hot August day. Otherwise, Paulina would have remained on a chain, nameless and exposed to filth and the harsh elements, like thousands of other dogs in Romania.
Paulina's story is similar to that of many dogs around the world, and it shows us all why we must speak up for animals every single day and never give up—because every life matters.
How to Help Chained Dogs
PETA encourages people to let their canine companions live indoors, where they can feel safe, warm, and loved. Please keep an eye out for "backyard dogs" like Paulina and alert authorities if you ever suspect that any dog is being denied adequate food, water, or shelter (or otherwise being neglected or abused). Click below to learn more about helping chained dogs here in the U.S.:
In addition, ask your friends on Facebook and Twitter to do more to help dogs languishing on chains.
Please also consider supporting our work to spread compassion around the globe. Click below to learn more about helping PETA Helps Romania continue to come to the rescue of vulnerable dogs like Paulina: