Honey Boo Boo has found something else that makes her holla: her new companion chicken. Alana Thompson's mother says that HBB and her BFF (best fowl friend) are practically inseparable.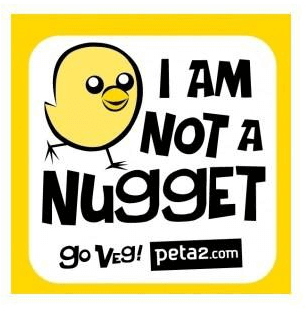 Why, then, would the pint-sized reality star name her chicken Nugget? PETA wrote to Honey Boo Boo asking her to change Nugget's name to "Not a Nugget," after our youth outreach mascot, to honor her companion as a friend, not food.
"As I'm sure you are learning from your chicken, chickens are smart, interesting animals with personalities of their own," our letter reads. "Changing Nugget's name to 'Not a Nugget' will let your fans know that they should be nice to chickens by not eating them."
But even if Honey Boo Boo "redneckognizes" that chickens are better as family members than value meals, that doesn't mean that she would have to give up her "chicken-nugget power." PETA is also sending the pageant queen our "I Am Not a Nugget" T-shirt and Gardein's faux-chicken tenders. Since meat-free nuggets have all the protein with none of the cholesterol, they'll give her more energy than Go Go Juice. And not eating chickens might earn her a whole new flock of fans.
If a dolla will make Honey Boo Boo holla, maybe a Gardein nugget will make her wanna hug it? (Note to June: Gardein also puts out good coupons.)