If you were to try on a leather garment only to have the skin come back to life as the animal it was taken from, what would your reaction be? The compassionate and oh-so-brilliant minds at Ogilvy & Mather Bangkok were betting that such a creation would stun horrified shoppers into rethinking purchasing animal skin. The advertising execs didn't know that it would also earn them PETA's Company of the Year Award.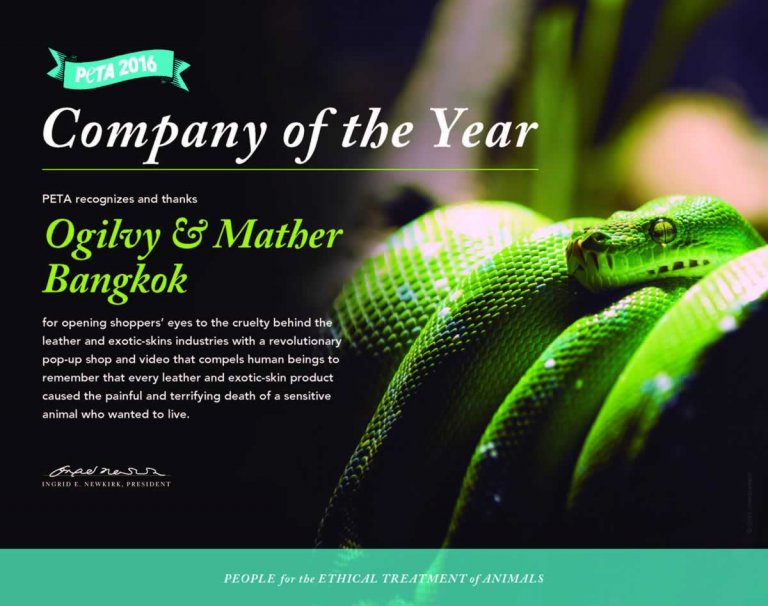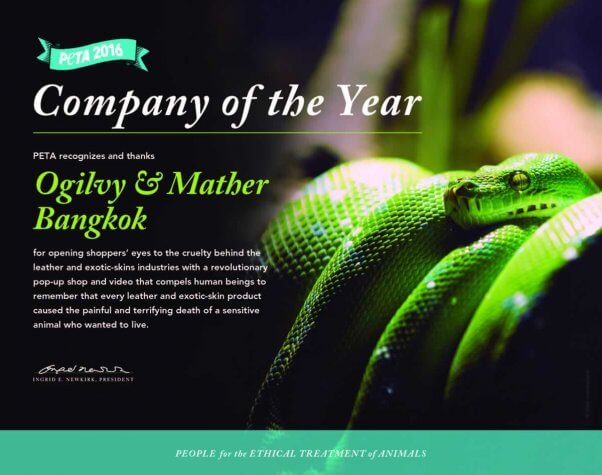 It's a well-deserved honor for Ogilvy & Mather, which created a fake store—named The Leather Work—in Bangkok's bustling CentralWorld mall, where leather garments came back to life. Shoppers were drawn in by the glossy bags, jackets, belts, wallets, shoes, and gloves, but they soon realized that these were no ordinary objects.
They jumped and screamed when they saw that jackets were attached to still-beating hearts, bags contained crocodiles' expanding and contracting intestines, and gloves left their hands smeared with "blood."
It's not the first time that the agency's creative geniuses have come up with a newsworthy way of getting people to pay attention to cruelty to animals. The company previously combined activism with art for a striking display called "Fur Hurts," which traveled around China. Thirty-six sculptors were enlisted to cover dozens of models of animals with hundreds of thousands of stick pins to represent the pain of being skinned alive. The art installation was mentioned numerous times in the news, posted all over social media, and talked about by celebrities. Every time people signed the online pledge to go fur-free, they could watch the image of an animal change: One stick pin would be removed, and a strand of fur would grow in its place.
The agency also created a video for PETA called "Runway Reversal," in which animals model human body parts in a fashion show.
The company is constantly finding creative methods to make people think about animals in ways they never have before, which is why we're proud to name Ogilvy & Mather our 2016 Company of the Year.