This week, the Coalition to End Horse Racing Subsidies—started by PETA and NYCLASS—put boots on the ground in Albany, New York, to provide critical information to legislators on the tax breaks that New York gives to the wealthy people who buy horses to use for racing. We urged officials to support the bills that would do away with this welfare for the rich.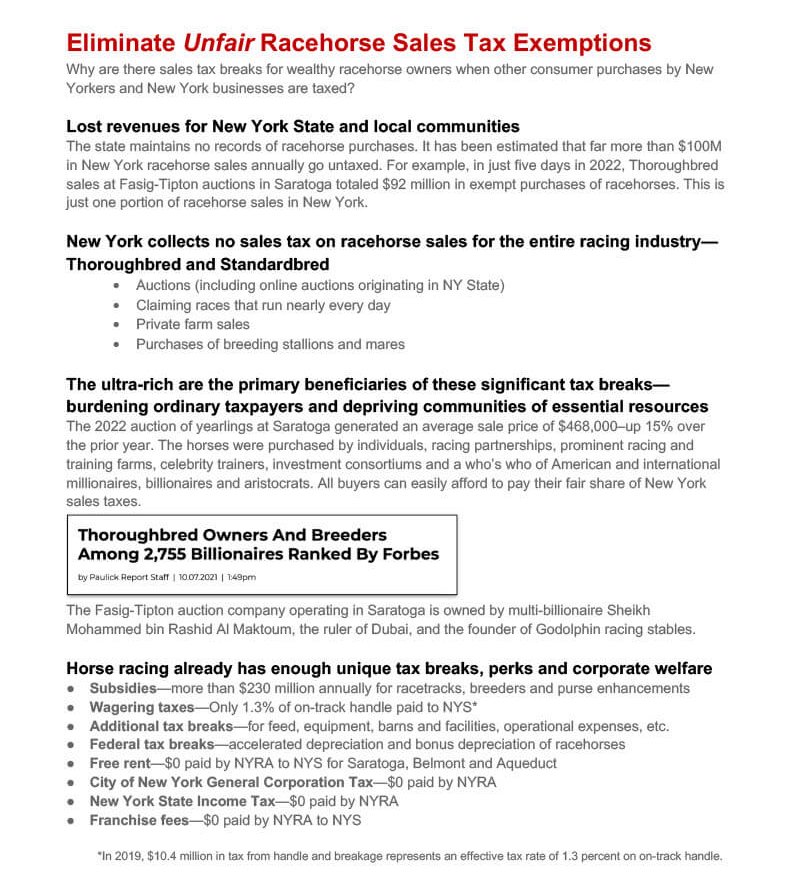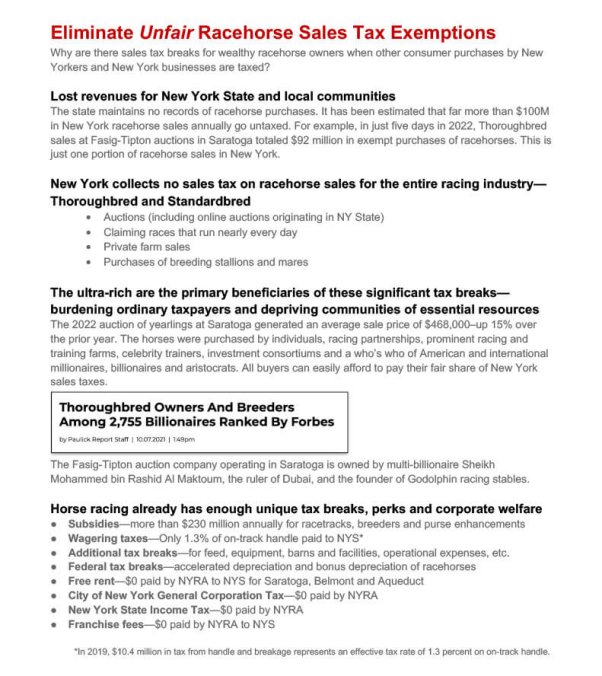 The Wealthy Benefit While Horses Suffer
The ultra-rich are the primary beneficiaries of these significant tax breaks—burdening ordinary taxpayers and depriving communities of essential resources. In fact, if an individual purchases a horse for recreational or show purposes, they do pay a sales tax. Estimates show that New York state misses out on over $100 million a year in sales tax because of this racing tax exemption.
The 2022 auction of yearlings at Saratoga racetrack generated an average sale price of $468,000 each. It seems obvious that the individuals, racing partnerships, prominent racing and training farms, celebrity trainers, investment consortiums, and international bourgeoisie who can pay that much or more per horse can easily afford to pay their fair share of New York sales tax.
Help Us Help Horses
If you live in New York, please contact your representatives to support A1438 and S481, which would repeal the sales tax exemption on the purchase of horses who may be used for racing. New Yorkers deserve public funding from the ultra-wealthy, and horses deserve protection from humans who would harm them—repealing the tax exemption is just one step in dismantling the subsidies that grant the failing horse racing industry its preferential status in the state.
Please take time to learn more about New York's other horse racing subsidies and support our work in defense of horses with the Coalition to End Horse Racing Subsidies: