Staffers from its Norfolk, Virginia, headquarters and Washington, D.C., office have endured the impact of Hurricane Sandy's winds and storm surge, but that's not stopping PETA from doing everything in its power to help the animals in the storm's path. Community Animal Project fieldworkers are on call 24/7 and have already been hard at work helping animals left to fend for themselves against the storm and the flooding.
Of course, the best way to protect animals is to prevent them from being put in harm's way in the first place. That's why PETA sent out emergency-preparedness alerts to media across Virginia, North Carolina, New Jersey, and other at-risk areas before the storm to remind guardians to be ready to allow animal companions to stay indoors and to take them along if forced to evacuate.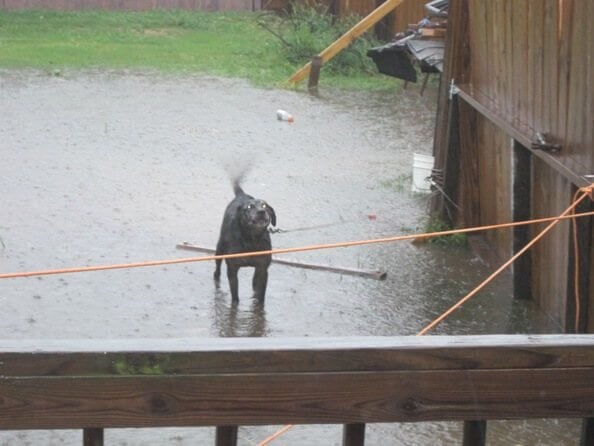 Unfortunately, not everyone has heeded this advice, and frightened, vulnerable animals like the dog you see here in Newport News, Virginia, have been left tied up outside to face the storm's onslaught. So PETA has sent urgent requests to the governors of all states likely to be affected by Sandy asking them to protect all their citizens—including the four-legged ones—by issuing immediate "no chaining" orders for their states.
The orders should require that all dogs be allowed to stay indoors and not be left chained outside, where they may drown, freeze, be strangled, or get hit by flying debris in the midst of the hurricane, as happened to Smokey, who died alone outside during Hurricane Irene on the chain that he had been attached to since puppyhood.
No matter what the governors decide, though, if Sandy is headed your way, please allow your dogs and cats to stay indoors with you, be prepared to take them with you if you have to leave, and urge your neighbors to do the same!