Eight dogs are lucky to be alive after they were reportedly left in a roasting-hot van for nearly two hours outside a San Francisco mall last Friday. To help prevent other dogs from enduring a similar miserable, terrifying, and potentially fatal ordeal, PETA is asking the mall's manager to stencil our "Too Hot for Spot!" public service advisory on every third parking space in the mall's lot.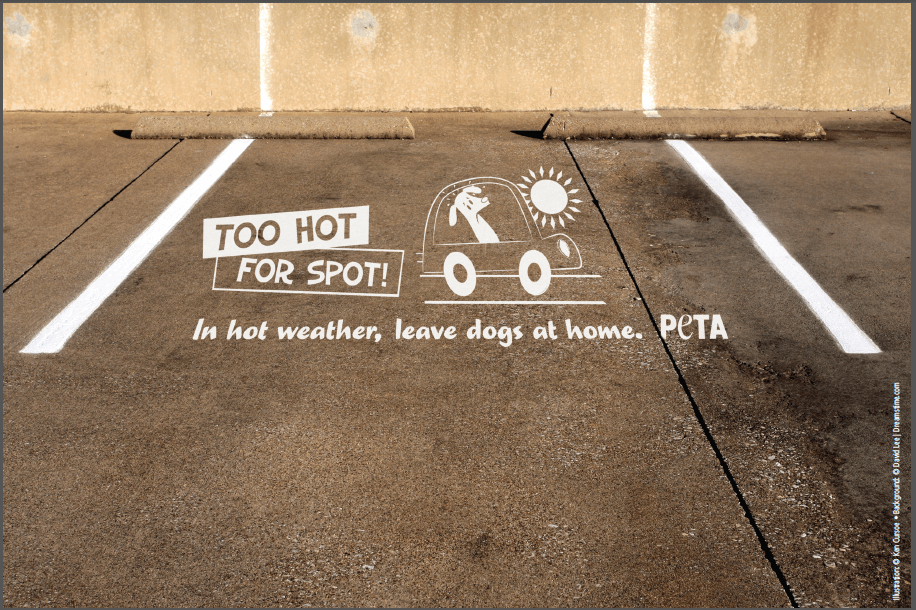 Illustration © Ken Cursoe, Background © David Lee | Dreamstime.com
Every summer, PETA receives reports of incidents in which dogs have suffered and died in agony from heatstroke after being left in a hot car. This often happens when shoppers "pop in" to a store and then run into a friend or become distracted and forget that dogs—and sometimes children—have been left vulnerable in the heat.
It doesn't take long for the temperature in a parked vehicle to reach deadly highs: On a relatively mild 78-degree day, the temperature inside a parked car can soar to well over 100 degrees in just minutes—even with the windows slightly open. Dogs can cool themselves only by sweating a little bit through their foot pads and panting, and they can succumb to heatstroke in just minutes, resulting in brain damage or death.
Don't make a fatal mistake—before running errands, drop your dog off at home (and make sure that fans or air conditioning is running and plenty of fresh water is available). And if you see a dog trapped in a hot car, take action. Have the owner paged inside the store, and/or call the police immediately. Stay at the scene until the situation is resolved—the dog's life depends on it.