PETA and animals have lost a great friend. Ravi Shankar, the late sitar maestro, Beatles collaborator, and honorary patron of PETA India, frequently spoke up to help end animal suffering.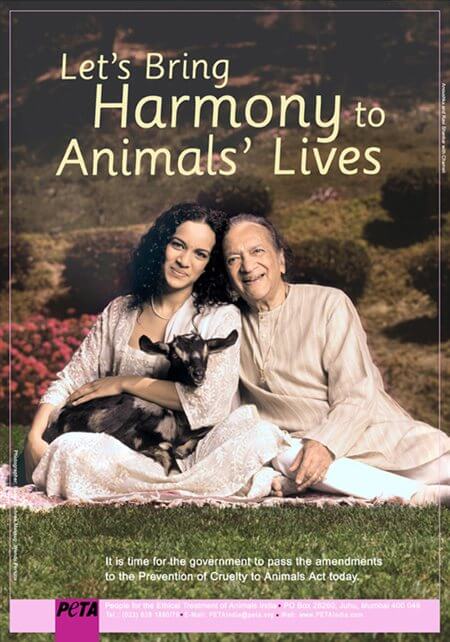 Together with his daughter Anoushka, Ravi Shankar appeared in print and TV ads promoting stronger laws protecting animals. 
Just a few of his many efforts in behalf of animals include appealing to the Indian government to strengthen laws protecting animals, which he continued to push for all his life. He participated in a PETA India news conference to support a lawsuit brought before the Indian Supreme Court accusing the central government, each state government, and the Animal Welfare Board of India of failing to enforce laws that are supposed to protect animals abused in the leather and meat industries. He also wrote to fast-food chain KFC urging the company to address the severe cruelty to the chickens killed for its restaurants.
To honor Ravi's memory, PETA India hopes the government will act today to pass the draft Animal Welfare Act 2011 and that each person who feels his loss will commemorate his compassion for animals by doing just one kind thing today—be it offering food to a hungry stray dog or writing to the Ministry of Environment and Forests and asking it to strengthen India's animal protection laws. 
Ravi worked with PETA and PETA India to bring harmony into animals' lives. He will always be remembered for his music and for his compassion for animals. We send his family our condolences.