This ad, along with details on a hotline that whistleblowers who witness abuse on movie sets can call, appeared in Variety magazine this week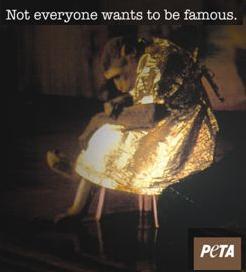 A while back a whistleblower from the set of Speed Racer reported that one of the chimpanzees used to play Speed Racer's sidekick, Chim Chim, was beaten during filming and bit a human actor. The Speed Racer movie is coming out next week, and while the industry's fleeting attention is attuned to the issue of animal abuse in Hollywood—especially after a bear used in the recent Will Ferrell movie attacked and killed his trainer—we figured now was the perfect time to encourage Hollywood insiders to speak up when they see abuse. Because nobody else is doing it right now.
A full-page ad prominently placed in yesterday's Variety magazine calls on Hollywood insiders who witness or suspect animal abuse in the production of a movie to immediately report the incident to PETA via a special hotline. Here's what PETA Director Debbie Leahy told the media:
"Beating and shocking great apes who are used as 'actors' is the rule—not the exception. We're urging anyone involved in any facet of film production who has witnessed or suspects animal abuse to report it to PETA immediately."
The story's been making its way around the blogosphere today. There's a good write-up on Deadline Hollywood Daily, and there's tons more info on our campaign to prevent animals from being abused behind the scenes in movies and on TV on our cleverly titled "No More Monkey Business" website.
P.S. Check out the sweet article about the issue on HuffPo.
P.P.S. You can tell Warner Bros. that you're boycotting their Speed Racer movie through this webform.