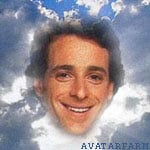 I got home from work the other day and turned on the TV. 1 vs 100 was on, and some of you may not know this about me, but I just love me some Bob Saget. I mean really, who doesn't love watching Full House reruns at 3 a.m. It reminds me of a more civilized time in our society, you know, before the Olsen twins became the rubberband wrist snapping fur hags that they are now.
Anyway, 1 vs 100. So, there was a question that was something like "What food served with a pita would PETA be upset about?" The multiple choice answers were falafel, hummus, or moussaka.
Talk about PETA weaving itself into the fabric of society. Very cool. Word on the street is that PETA also made it into Jay Leno's patter on Tuesday as well (to do with our letter to Al Gore), but I was probably too busy watching my box set of America's Funniest Home Videos to catch the show. Like I said, Bob Saget, you know? Can't get enough of that guy.