Great news on the circus front from our colleagues at Animal Defenders International: Peru's president, Alan García, has signed a law banning wild animals in circuses. The decision comes right on the heels of the British Parliament's unanimous vote to direct the government to introduce a similar ban. Legislation is also pending in Scotland, Brazil, Ecuador, and Colombia.
The use of animals in circuses has previously been abolished in Austria, Bolivia, Costa Rica, Singapore, Sweden, and many municipalities in Canada.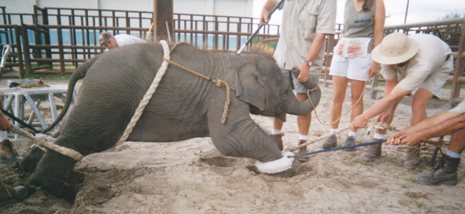 © Sam Haddock
Most animals used in circuses are meant to roam over vast territories, but instead live chained or caged in cramped transport trailers and boxcars, allowed out only when forced to do demeaning tricks. Circuses go to great lengths to hide the dark side of the big top—that animals are torn from their families, are beaten into submission, and suffer from arthritis, foot problems, and other conditions.
Progress is being made around the world, yet the Ringling Bros. circus is still hauling sick elephants around the U.S. and forcing them to perform. Please ask federal authorities to intervene to get these ailing elephants off the road.
Written by Jennifer O'Connor