What's crustier than a crustacean? An angry former Marine who was so sickened after watching video footage captured by PETA in Linda Bean's Maine Lobster (LBML) slaughterhouse that he dashed off an angry e-mail to Ms. Bean herself:
Dear Ms. Bean:
I have been a customer of . . . LL Bean for over 30 years. I charge 98% of my expenditures on my Bean card. I pay my bill early each month in full. To find out that I am supporting such inordinate cruelty to animals is disquieting to me. Don't get the wrong idea. I am a former Marine Infantry sergeant and I don't back away from a fight, but this is uncalled for. If you continue with this I will cancel my Bean card forever.
A recent undercover investigation by PETA showed workers at LBML routinely ripping and tearing the legs, heads, and shells off live lobsters and leaving them in bins to writhe in agony until they died. Workers were also documented ripping off the top shells of conscious crabs with sharp spikes before violently rubbing off the animals' internal organs with a rapidly spinning, stiff-bristled brush.
PETA has filed a cruelty complaint citing 38 incidents captured on video during our investigation related to apparent violations of Maine's cruelty-to-animals law.
https://www.youtube.com/watch?v=4jgfyd6M-I0
Protesters gathered in Florida outside Delray Beach's Linda Bean's Perfect Maine Lobster to show shocked customers the less-than-perfect ways in which crabs and lobsters are torn apart while alive and fully conscious at LBML.
And to lend lobsters and crabs a helping hand, we've created another outstanding ad for people to share on Twitter and Facebook to raise awareness about LBML's cruelty to crustaceans: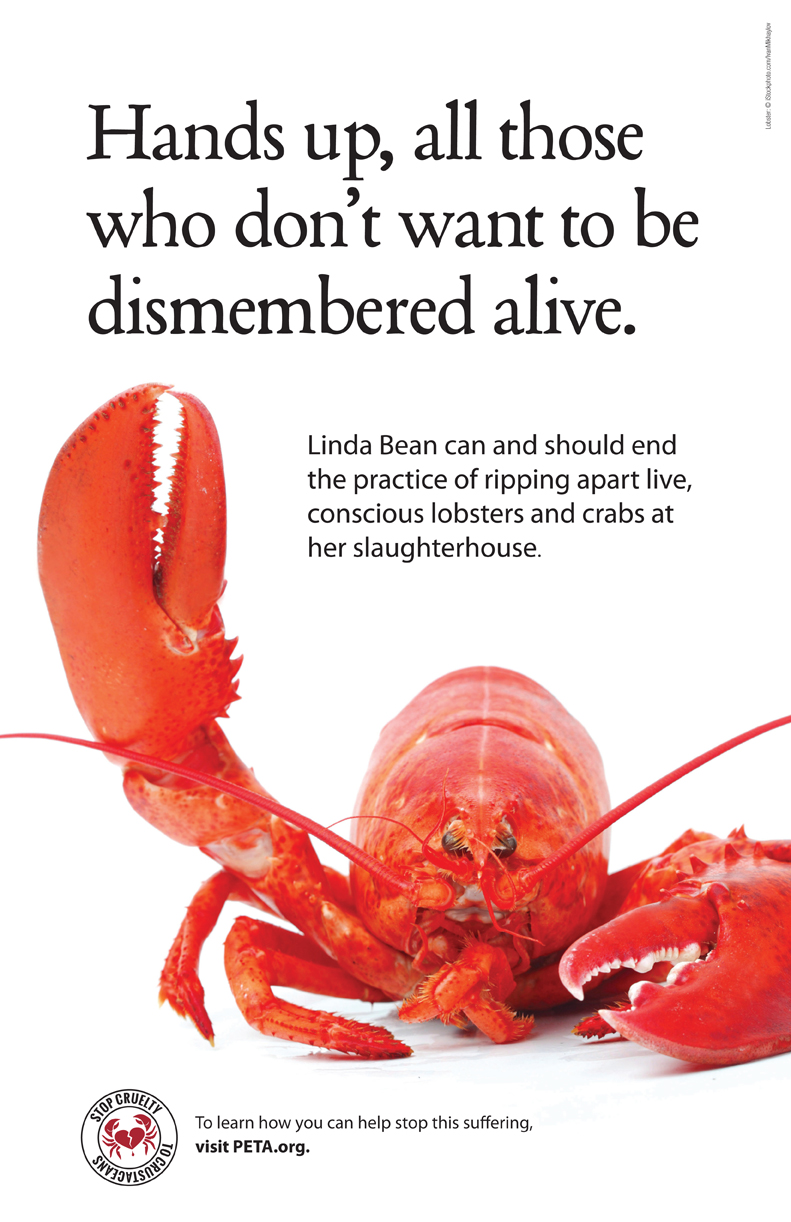 Lobster: © iStockphoto.com/IvanMikhaylov
'Don't Back Away From a Fight'
Join PETA and the brave men and women mentioned above and demand that LBML stop dismembering crabs and lobsters while the animals are alive and conscious!