We're not the only ones who are severely frustrated about Giorgio Armani's failure to keep his word and remain fur-free! Sir Paul McCartney—pictured here with Giorgio at one of Stella McCartney's fashion shows—is the latest to respond to PETA's action alert.
Sir Paul is adding his voice to a chorus of celebrities who are upset over Armani's penchant for rabbit pelts—celebrities such as the Andersons (Gillian and Pamela, no relation). These lovely ladies kicked off PETA's "Get Armani off Fur" campaign—Pam hosted a PETA launch event during Fashion Week in Italy, and Gillian narrated PETA's horrific rabbit fur farm exposé.
We hope that Sir Paul, Gillian, and Pam won't be the only famous voices to speak up against Armani's fur fixation. PETA Vice President Dan Mathews has written to many Armani-wearing stars, including Tom Cruise and Katie Holmes, Glenn Close, and Cate Blanchett, urging them to use their influence with the designer to get him to keep his fur-free pledge.
Oh yeah, and one other thing Dan did—remember that "Pinocchio Armani" ad? Well, Dan unveiled the new posters outside Armani's flagship store in Milan this week. Here he is with a local activist there—check out those giant rabbits!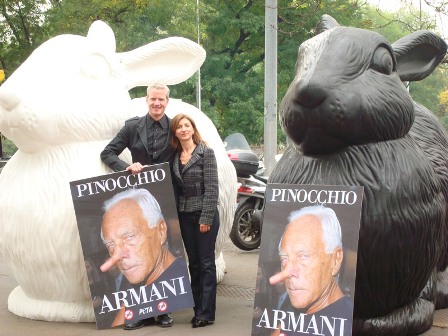 Those big bunnies are just two blocks from Armani's store—I guess they'll be keeping an eye on him … and so will we! Stay tuned for more Armani news—and don't forget to take action!
Written by Amanda Schinke