© Star Max Inc.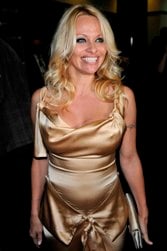 Our favorite Canadian and Dancing With the Stars contestant Pamela Anderson never stops (fox)trotting forward with her efforts to help animals.
Pamela is taking advantage of Canada's Access to Information Act, which lets Canadian citizens demand copies of government records. She's just e-mailed requests to government agencies Fisheries and Oceans Canada, the Atlantic Canada Opportunities Agency, and Foreign Affairs and International Trade Canada asking for any documents that contain information about tax dollars that Canada has spent in the past decade to keep the dying seal slaughter on life support.
In her letters, Pamela makes it clear that she will be sharing the information with PETA. We expect that the responses will provide a wealth of insight into our new initiative to show how far the Canadian government will go to push seal pelts and byproducts stolen from helpless victims.
Stay tuned …
Written by Karin Bennett