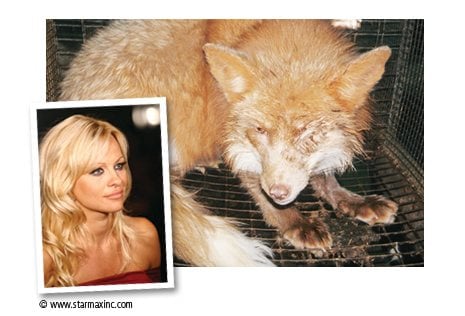 Pamela Anderson was as perplexed as we were to learn that despite Denmark's recent ban on cruel fox-fur farms, some in the country's royal family still wear fur. Perhaps the Queen is harking back to her girlhood, when fur was integral to the royal robes, but since she enjoys all the other trappings of a modern life, it's time to lay cruel stodgy fashions to rest. Pam penned a letter to Queen Margrethe II explaining that all fur means animal suffering: 
Undercover investigations into fur farms have shown cruelty to animals across the board, from Denmark to the United States. Most fur comes from China, where animals—including dogs and cats—are bludgeoned and even skinned alive for their fur, as seen in this short video. Minister Eva Kjer Hansen of Denmark stated, 'Mink breeders break animal welfare rules. And that is unacceptable.' Animals trapped in the wild are no better off: Many suffer for hours and even chew off their own limbs to escape.
Hopefully, Queen Margrethe II will join the scores of leading ladies, including Michelle Obama and Carla Bruni, who refuse to wear fur. Until she does, we have a feeling she hasn't heard the last from Pam.
 
Written by Michelle Sherrow