Update: The European Commission has confirmed that it will uphold the original March 2013 deadline for the ban on the sale, within the European Union (EU), of any cosmetics or cosmetics ingredients that have been tested on animals. This marketing ban means that companies all around the world that want to sell cosmetics in Europe will have to abandon animal testing for cosmetics that they want to sell in the EU. The decision follows vigorous campaigning by PETA entities worldwide that included public protests, phone calls, and more than 20,000 e-mails. New Commissioner Tonio Borg met with PETA U.K. to deliver the news personally, and the organization has sent a huge bouquet of flowers to the commission in thanks.
Originally posted on September 22nd, 2011: 
PETA friend and animal advocate extraordinaire Pamela Anderson has written to European Commissioner for Health and Consumer Policy John Dalli urging him to honor the original 2013 deadline for banning the sale of cosmetics in the European Union that have been tested on animals. The European Commission is considering delaying the deadline for years—and perhaps indefinitely.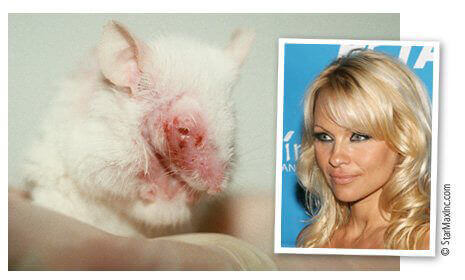 In her letter, Pamela states, "I love cosmetics, but there's no reason for animals to suffer for lip gloss and eye-liner; those cruel tests are from another era." She adds: "Today, there are effective and 100 percent humane non-animal testing methods. We also already know thousands of ingredients that have a long history of safe use. Hundreds of manufacturers have already been using them for years! Please, don't turn back the clock."
Please join Pamela in calling on the European Commission to stick to the 2013 deadline.