As cubs, sibling brown bears Marko and Maria were captured in the Albanian mountains after their mother was killed by hunters. For two long years, they languished in tiny cages outside a restaurant in Tirana, Albania, barely surviving on scraps of bread.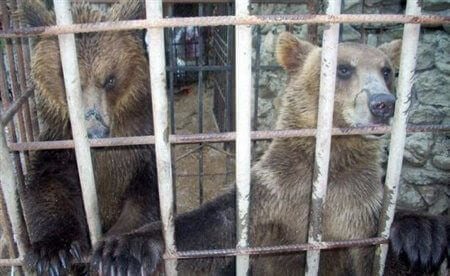 A compassionate woman who was determined to rescue the bears from this miserable situation contacted PETA for help. For nearly a year, PETA assisted the tireless animal activist by reaching out to many animal protection organizations. In September, a breakthrough in the case finally came when Libearty Bear Sanctuary, a large, reputable bear sanctuary in Europe, agreed to help and arranged for Marko and Maria to be transported to their new home in Romania. The two will now spend the rest of their lives exploring 170 acres of lush forests, climbing trees, drinking from streams, and swimming in pools with the 56 other bears who live at Libearty.
Marko's and Maria's lives were changed forever because someone cared enough to get involved. If you know of an animal who is suffering—perhaps a dog who is kept chained in a neighbor's backyard—please be that someone. Take action. You can make a difference!