This little logo—which PETA is using in our efforts to urge Lowe's to stop selling cruel glue traps (archaic torture devices that trap small animals, causing them to suffer from suffocation, starvation, and mutilation)—is apparently causing big headaches for the company: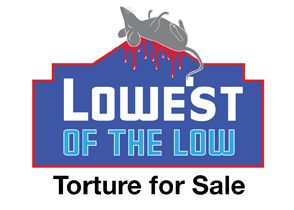 Last week, the company that manages Lowe's trademarks sent the head legal counsel for PETA a letter claiming that our logo parody infringes on their trademark rights and demanding that we stop using it. Our legal eagles fired back with a letter saying, in short, "Umm, not quite." (Though, as lawyers always tend to be, they were a bit more technical than that.) In the letter—sent to LF LLC (which has the most generic, nondescript corporate name EVER)—our corporate counsel wrote:
[PETA's parody of Lowe's logo] is entirely consistent with the Lanham Act and no reasonable consumer could confuse any of these items as originating from or belonging to Lowe's. We do not believe that LF seriously contends than an appreciable number of consumers who see an image of a bloodied dead mouse slouching across the top of a slogan that reads "Lowe'st of the Low: Torture for Sale" would be confused into thinking that Lowe's is the source of the publication. If Lowe's is truly concerned about its goodwill, we recommend that it end its sale of cruel glue traps.
Pow! That's gotta hurt—though not nearly as much as being caught in one of Lowe's glue traps.