We've decorated Washington's Pedicabs with this ad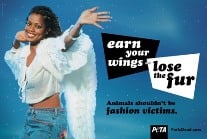 Next week's historic presidential inauguration is being touted as the "greenest" of all time, so of course, we at PETA will be there in all our green glory!
Tomorrow, we'll already be on the streets of D.C. handing out fur coats to the homeless. Yep, you read that right. See, fur does nothing to raise a person's social status. On the contrary, only if you have nothing do you actually have any real excuse for wearing someone's cast-off fur. Next—to show our appreciation to all the fur-free folks attending the inaugural festivities in the cold—we'll be serving free hot soy cocoa in PETA cups printed with the message, "Thank you for not wearing fur."
D.C. fur coat giveaway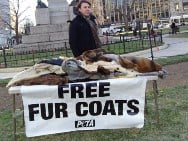 If you'll be in D.C., keep an eye out for PETA staffers and members dressed as foxes, raccoons, and rabbits and wearing pins that read, "Be Fur-Free."(Yes, they'll pose for photos.) If that isn't enough excitement for you, the peta2 "not-a-nugget" chick, "cows," and "pigs" will also be working the crowds with signs reading, "Yes We Can: Go Vegetarian!" They'll also be handing out copies of our free "Vegetarian Starter Kit." Even if you don't spot a PETA mascot, you'll probably catch a pedicab adorned with PETA's anti-fur ads.
As you know, fur is anything but green, folks. It's treated with chemicals (to keep it from decomposing, ewww), and the production of the ugly stuff pollutes rivers and streams with tannery runoff. It also takes 15 times the energy to produce a fur coat than it does to produce a faux-fur one. Then there's the business of ripping animals from their natural environment and killing them painfully. We're thinking that if Styrofoam isn't allowed, then fur certainly has no place at the inauguration.
So, here's to a truly green inaugural celebration.
Also, if you would like to donate your "change of heart" fur to us, click here. We'll make sure it is put to good use: We send donated furs to animal sanctuaries so that rescued animal orphans can be comforted by them. We also cut them up for refugee children in war zones and use them in educational displays.
Written by Missy Lane