We're tickled countless shades of pink to report that NYX Cosmetics has affirmed its commitment to producing 100 percent cruelty-free cosmetics by pledging not to sell its products in China until animal tests are no longer required there for makeup and personal-care items. To applaud the company's commendable choice to stay out of this large consumer market so that not even one animal will be harmed for its products, PETA has given NYX Cosmetics our Courage in Commerce Award.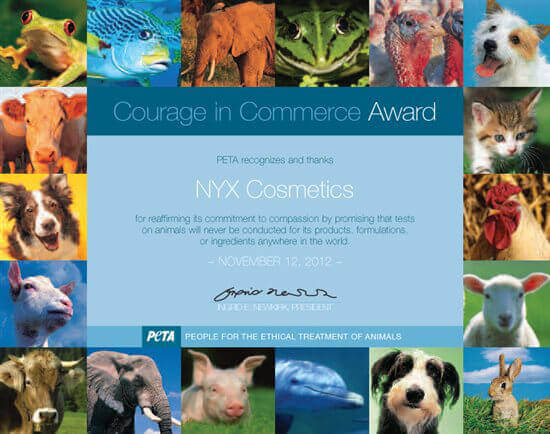 We hope NYX won't have to wait too long before marketing in China. Thanks to training and outreach partially funded by PETA, China is poised to begin accepting its first-ever in-vitro (non-animal) test for cosmetics ingredients soon. In the meantime, though, the only way into the Chinese cosmetics market is over the dead bodies of animals.
Unlike corporations that sell out animals in hopes of a larger market share (or refuse to say whether they pay for animal testing or not), NYX Cosmetics and other principled cosmetics and personal-care companies, including Paul Mitchell and Urban Decay, are making ethical conduct a top priority, and they deserve our support.
What You Can Do
Ready to change your look? Starting your holiday shopping? Before you hit the stores, make sure you're not buying into cruelty by checking PETA's list of companies that don't test on animals—it's the numero uno resource for up-to-date info on cruelty-free businesses.