UPDATE: Even though it seems clear that an elephant named Nosey is in pain and struggling to walk, circus owner Hugo Liebel continues to haul her around the country and force her to give rides. The latest video evidence shows that she has been consistently lame with limited mobility for weeks. A veterinarian who reviewed the footage and observed Nosey in person confirmed that she is undoubtedly suffering from ongoing pain.
PETA has repeatedly asked the U.S. Department of Agriculture (USDA) to seize Nosey and get her the veterinary attention that she so desperately needs before it's too late. Arthritis and foot problems are the leading reason why captive elephants are euthanized.
 "[Nosey] undoubtedly suffers from advanced arthritis and degenerative joint disease, resulting in ongoing pain, and most likely permanently impaired limb function."

—Philip K. Ensley, D.V.M., Dipl. ACZM
USDA animal-care inspectors have a duty to recognize when animals are suffering, and the agency has the authority to confiscate animals whose health is in serious danger. PETA stands ready to help with getting Nosey retired to a reputable sanctuary.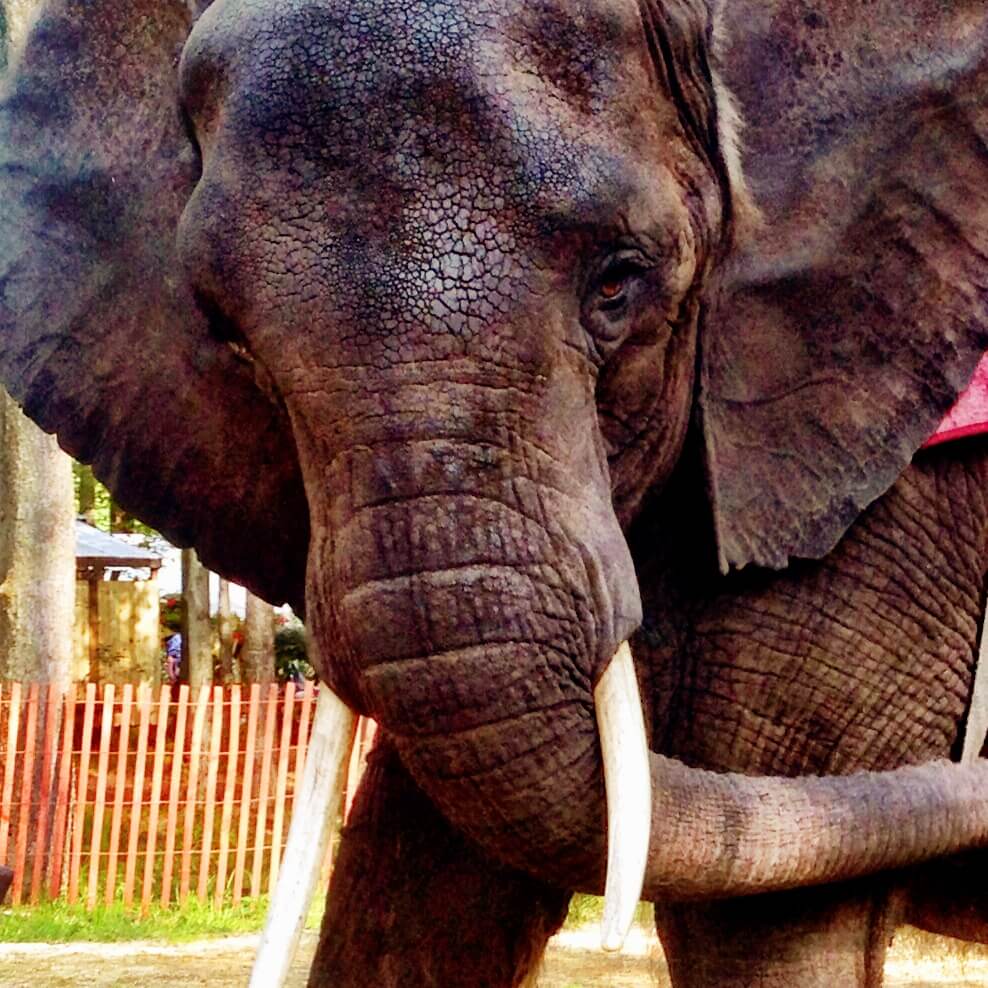 What You Can Do
Contact the USDA today and ask that Hugo Liebel's license be revoked once and for all.
The following was originally published on April 21, 2014:
Update: Once again, Hugo Liebel said he would stop violating the Animal Welfare Act, and once again, he failed. As a newly released report reveals, the U.S. Department of Agriculture again cited Liebel for denying Nosey veterinary care and for failing to protect the public during elephant rides. With the latest ones, Liebel has racked up a total of nearly 200 violations. Please follow the link below to ask the Florida Fish and Wildlife Conservation Commission to revoke his exhibitor's license.
The following was originally published on April 7, 2014:
Nosey the elephant's owner and abuser, Hugo Liebel, wants everything to remain business as usual with Nosey and a captive spider monkey, Reggie. His permits to keep both long-suffering animals are up for renewal, but PETA has intervened and asked the Florida Fish and Wildlife Conservation Commission (FWC) to deny the applications on the grounds that the animals' conditions are unlawful.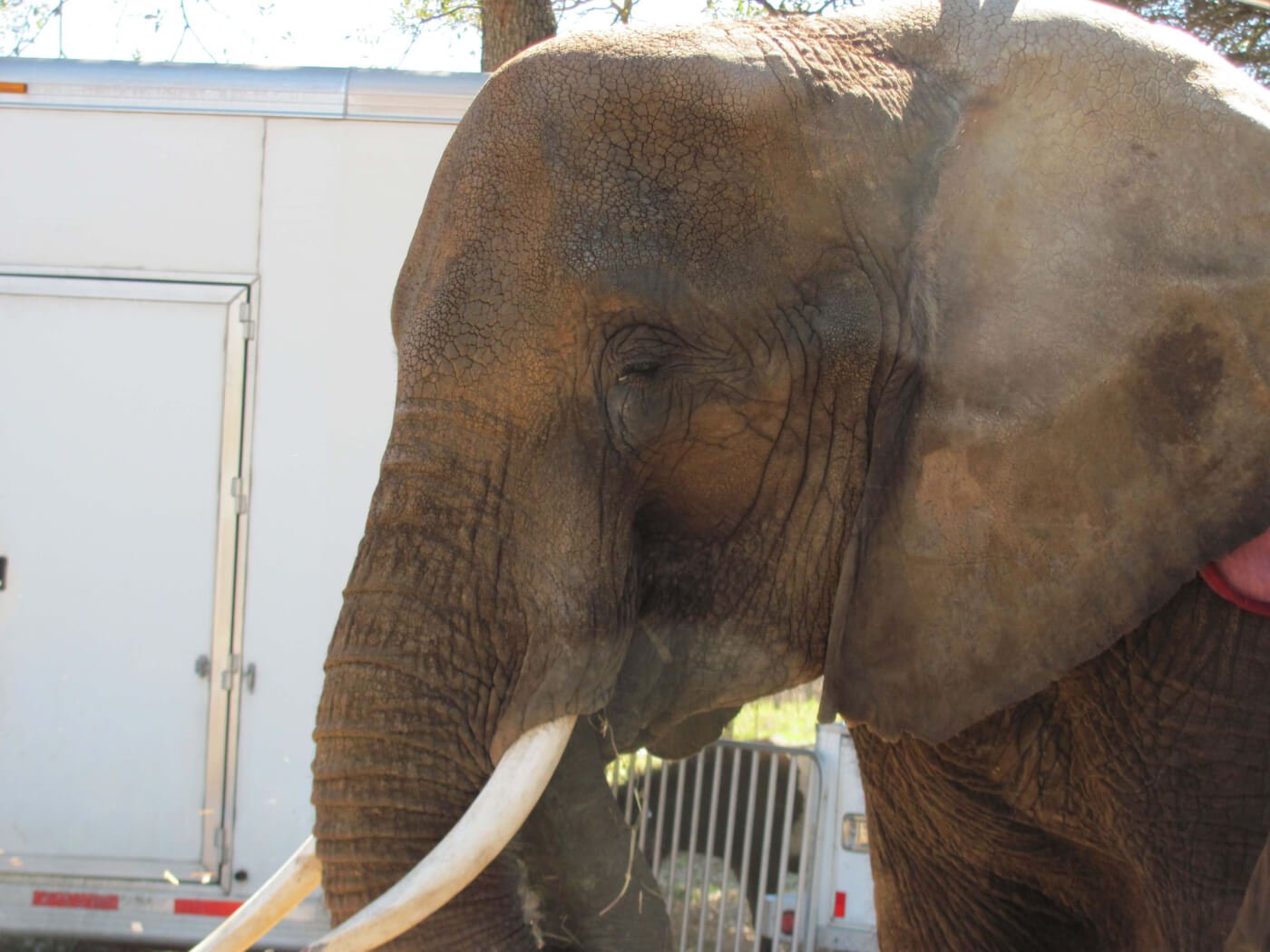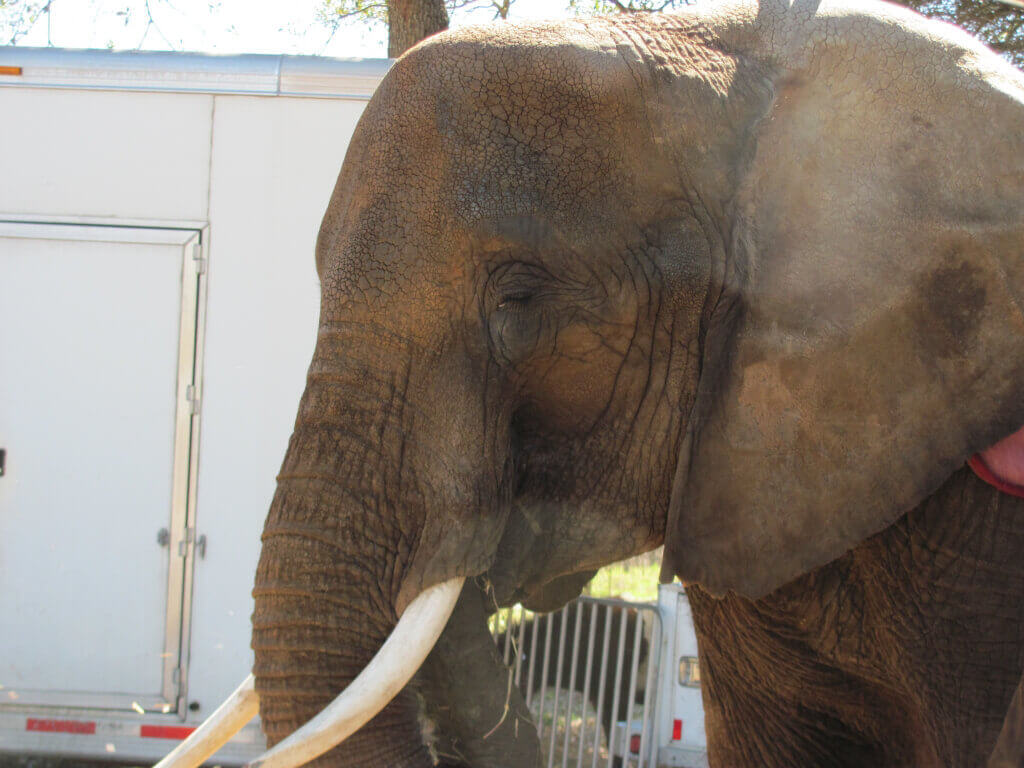 Florida law prohibits "maintain[ing] captive wildlife in any unsafe or unsanitary condition, or in a manner which results in threats to the public safety, or the maltreatment or neglect of such wildlife." And Liebel has significant trouble following the law.
Just a few of his known violations include regularly neglecting a skin condition that Nosey has suffered from for more than 20 years and denying animals other needed veterinary care, forcing animals to live in filthy enclosures, letting Reggie escape and run loose for six weeks, chaining Nosey so tightly that she could barely move, chaining monkeys by their necks, depriving animals of food, and viciously beating animals.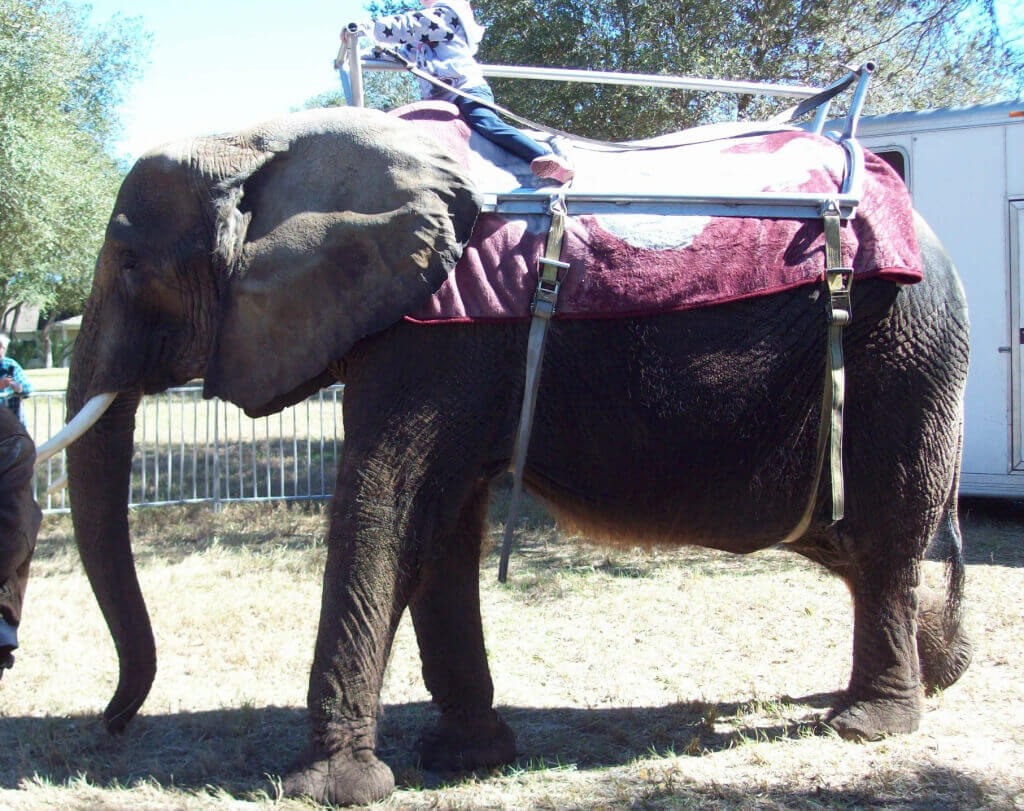 No wonder Nosey attacked a handler! But Liebel still allows the public—including children—to have close, unmonitored contact with her.
Under Florida law, when a permittee fails to comply, the FWC must look at suspending, revoking, or refusing to renew his or her authorizations. If Hugo Liebel hasn't failed to comply, then we don't know who has.
Veterinarian and exotic-animal specialist Dr. Philip Ensley has joined PETA's petition to the FWC to deny Liebel's renewal application. Dr. Ensley told the FWC:
"This is the worst, most prolonged, documented example of an uncorrected case of suffering and abuse in an elephant I have ever reviewed."
You can help us by asking the FWC to yank Liebel's license before Nosey suffers for one more day.