The National Institutes of Health (NIH), the country's foremost medical research authority, has the lofty and admirable goal of seeking scientific knowledge that will "enhance health, lengthen life, and reduce illness and disability." But the reality is that at numerous university laboratories across the country, the agency squanders billions of taxpayer dollars on painful and ultimately deadly experiments on animals that do nothing to advance our understanding of human health.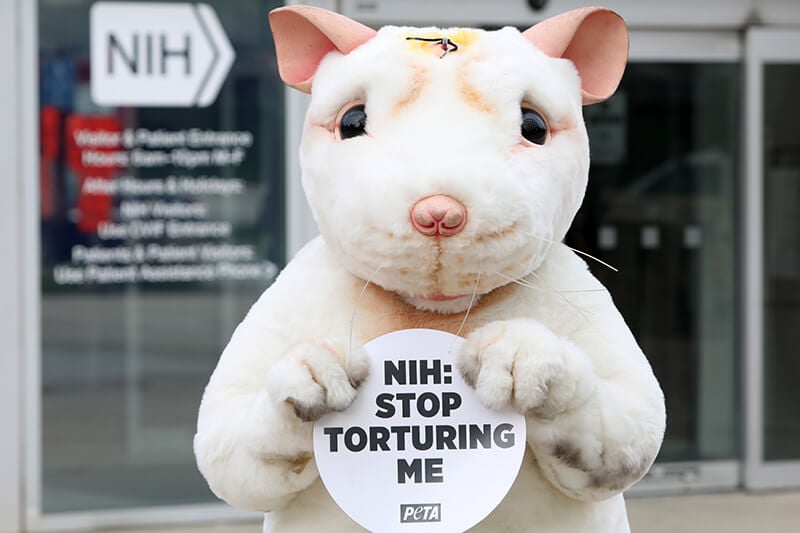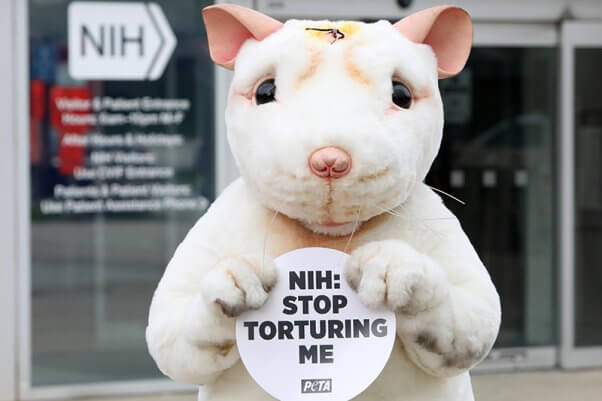 Hundreds of thousands of animals—including monkeys, dogs, rabbits, bats, mice, rats, guinea pigs, and hamsters—are imprisoned at NIH's sprawling headquarters in Bethesda, Maryland. None of these animals will make it out unharmed, and few will make it out alive.
Here's NIH, by the numbers.
If numbers really do tell a story, the figures below spin a yarn that would give Stephen King chills. It's a story of an agency bloated with tax money, indifferent to suffering, and apparently in service of its own perpetuation:
Amount of taxpayer money that funds NIH annually: $41.7 billion
Amount of taxpayer money NIH directed to funding for animal and non-animal research projects in 2020: $37.5 billion
Amount of NIH research project funding that pays for experiments using dogs, rats, monkeys, mice, and other animals: 47%
Total spent on experiments using animals: more than $19.6 billion each year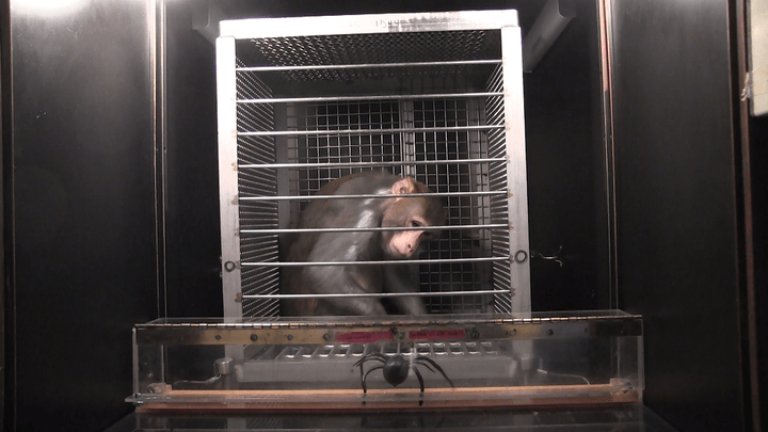 NIH: National Institutes of Horrors
Take a look at what's gone on in 2019 at the NIH Maryland campuses alone.
Number of monkeys used in experiments: 3,272
Number of monkeys imprisoned but not used: 477
Number of monkeys who endured pain or distress without any painkillers: 383
Number of dogs used in experiments: 415
Number of rabbits imprisoned or used in experiments: 487
Approximate number of mice imprisoned or used in experiments: 351,540
Approximate number of rats imprisoned or used in experiments: 8,440
Approximate number of fish imprisoned or used in experiments: 197,887
Number of pigs used in experiments: 185
Number of sheep used in experiments: 2
Number of hamsters used in experiments: 420
Number of guinea pigs used in experiments: 790
Number of bats used in experiments: 414
Number of ferrets used in experiments: 77
Misery and Privation From Cradle to Grave
Amount of space given to a rhesus macaque in a laboratory: 4.3 square feet
Natural home range for a rhesus macaque: over 5 square kilometers
Distance a rhesus macaque can travel in a laboratory cage: two or three steps
Ratio of the natural home range for a rhesus macaque to the floor area provided in a laboratory: 7 million to one
Number of times monkeys in NIH's Bethesda laboratories will ever go outside: 0
Failure to Comply With Minimum Animal Welfare Laws and Guidelines
Serious violations of federal animal welfare guidelines inside NIH's Maryland laboratories in the months from January 2018 to October 2019: 31
Number of mice who were denied post-surgical analgesia in just one experiment: between 105 and 140
Number of incidents in which animals starved to death or died of dehydration because NIH staff forgot to give them water or feed them: 6
Number of months overhead lights were left on in a room of caged monkeys: 5
Number of animals injured or killed because of NIH staff incompetence: at least 221
Number of animals who baked to death: 25
Number of mice who had to be killed because they were fed the wrong diet: 205

Failing Science, Failing Human Patients
Ninety-five percent of pharmaceutical drugs that test safe and effective in animals fail in human clinical trials.
The numbers don't lie—experiments on animals are a waste of time, resources, and lives. You can make a difference for animals trapped in laboratories. Take Action Now!