Ugh …No, seriously. Ugh!OK, having turned *mumble* years old last Friday, I'm not really a member of this show's "target demographic." But even 'tweens must find the heartless use of a live baby chimpanzee in Nickelodeon's Merry Christmas, Drake & Josh offensive.Forget for a moment that this is a program with so little imagination that they named the lead characters—played by Drake Bell and Josh Peck—"Drake" and "Josh." Forget that their idea of family-appropriate humor is to depict a child on the receiving end of a stream of ape urine—and I'm not sure that qualifies as "humor" at all. Still, although these folks clearly aren't very smart or creative, nothing justifies exploiting an animal for supposed "entertainment."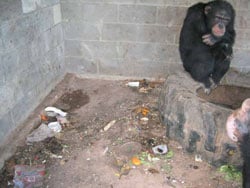 Chubbs, who loved to blow kisses to our investigator at the Amarillio Wildlife Refuge, was often sad and depressed. He reportedly appeared in several episodes of Monkey Movies, on Animal Planet, and in the remake of Planet of the Apes.
So what's so wrong with using a chimpanzee? I'm glad you asked. You or I might have fantasies of thanking "the Academy" while clutching a statuette and dressed to the nines (wearing Stella or Marc, natch), but animals want to be left in peace—they don't want to be "stars." In fact, the chimps in movies and TV are still toddlers who need to be back with their families doing what they're meant to do. I mean, think about it: When you see documentaries about apes in nature, are they wearing clothes or riding unicycles? Do they have hidden restraints and shock collars?To get chimpanzees, orangutans, and other great apes to perform, "trainers" often beat and electro-shock them. The rest of the time, most of the animals live in tiny metal cages. And when they're no longer useful to producers, they're often dumped at horrible roadside zoos—usually when they're only about 8 years old and have about 50 years left to stare at the wall. There's no time like the holidays to remind Hollywood that we're not going to put up with any more "monkey" business. Please join us in telling Nickelodeon that there's nothing less Merry than a lonely, suffering chimpanzee forced to grimace and mug for a few chuckles.
Written by Jeff Mackey