The outcry over Michael Vick's indictment has been enormous, bringing national attention to the horrors inherent in the vicious blood sport he's accused of participating in, and inspiring countless people to speak out against cruelty to animals. Following demonstrations outside the NFL's offices in New York and Falcons HQ in Atlanta, an impassioned letter from Senator John Kerry, and a powerful speech by Senator Robert Byrd in D.C., Commissioner Goodell has finally responded and told Vick not to come to training camp while the NFL reviews his case. This is a step in the direction, but we do need to keep the pressure on the NFL right now to suspend Michael Vick from the team. Given the evidence—rape racks, treadmills, piles of dead animals—no reasonable person would doubt that illegal dogfighting and horrific cruelty to animals have taken place on Michael Vick's property, and that alone—even for those who still believe that Vick was completely oblivious to the major operation that was going on under his nose—is reason enough for Goodell to take strong disciplinary action. You can write to the NFL here.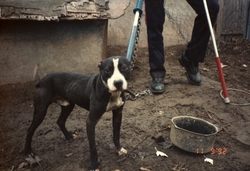 Now we need to persuade the companies that have yet to address the glaring fact that they are still touting Michael Vick as a poster boy. PETA's letter to Nike, Vick's most prominent sponsor, is available here, and you can contact the company through the form here to ask that they immediately sever ties with Vick in light of these horrific allegations.
PETA will be keeping pressure on the NFL and Nike this week, and we'll keep working to ensure that this issue is treated with the seriousness that it deserves by anyone who continues to try and make money from an association with an alleged torturer.
We are also making certain that everyone has information about exactly what the blood sport of dogfighting means for the animals involved. This PETA PSA, starring heavyweight boxing champion Lamon Brewster has been going out to TV stations around the country all week. If there is a silver lining in this case, it is that the public is now very aware that dogfighting is an issue that needs to be addressed urgently and that strong measures need to be taken to stamp it out forever.