As the Garden Bros. Circus continues to tour the country, PETA is sharing new video footage from one of its recent performances that shows an elephant handler frequently poking, yanking, and prodding the animals in sensitive areas of their bodies. While on stage, elephant trainer Anthony Frisco can be seen using a bullhook—a weapon that resembles a fireplace poker with a sharp metal hook on one end—to coerce the animals into performing by jabbing them behind their ears and legs and on their sides.
Circuses are notorious for using weapons to force elephants to perform—they even use a gray powder called Wonder Dust to cover up the bloody wounds that result. PETA is calling on audiences to stay away from Garden Bros. Circus unless it nixes the animal acts and performs with talented, willing human performers only.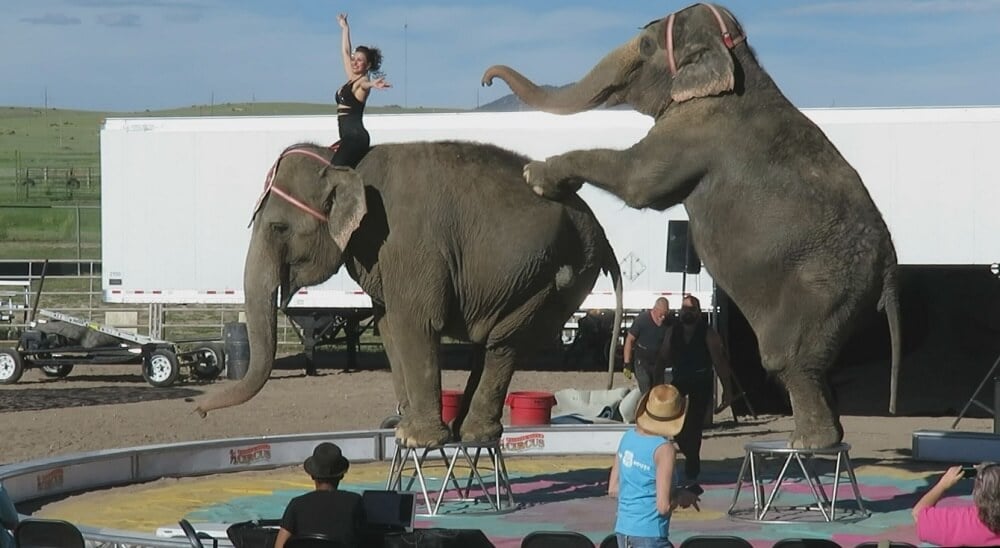 Garden Bros. Circus has an "F" rating from the Better Business Bureau. Its elephant provider, Carson & Barnes Circus, has been cited for more than 100 violations of the federal Animal Welfare Act and employs as its head trainer Tim Frisco—Anthony Frisco's father—who was caught on video (below) attacking elephants with a bullhook and an electric prod. In a recent whistleblower complaint, a former Garden Bros. employee described frequently seeing elephants with blood dripping from behind their ears.
Venues and localities across the country—including in Georgia, Minnesota, Mississippi, Missouri, New York, Vermont, and Virginia—have canceled Garden Bros. shows or barred the circus from performing with animals. More than 620 venues and dozens of communities have banned wild-animal acts.
Don't Let Garden Bros. Get Away With Abuse
We need your help to let venues that are planning to host a Garden Bros. Circus show know about this history of animal abuse. Ask venues still planning to host this cruel circus at least to require that scheduled performances go forward without animals, and urge Garden Bros. to eliminate its cruel animal acts: