Updated October 27, 2017: Victory! This hellhole blood bank is closing.
The Pet Blood Bank in Cherokee, Texas, will close its doors and transfer the dogs into adoption programs following PETA's exposé.
PETA celebrates the release of these dear dogs who began life abused at a race track and wound up in a filthy blood bank. PETA will now work hard to get regulations passed to ensure all blood for emergency transfusions comes from real donors, and not from imprisoned, miserable dogs.
The following was originally published on October 5, 2017:
Billion-dollar enterprise Patterson Veterinary Supply, Inc., based in St. Paul, has reneged on its pledge to help the 150 or so greyhounds revealed in PETA's exposé to be confined to kennels at a Texas outfit called The Pet Blood Bank, Inc., whose blood products Patterson distributed. One day after the exposé broke, Patterson promised to ensure the dogs' care, but less than a week later, the company released a statement saying that it wouldn't help rescue the dogs. In response, PETA has hit the gas on a mobile billboard showing a greyhound languishing in the dirt on the blood farm and calling on the company to help retire the dogs.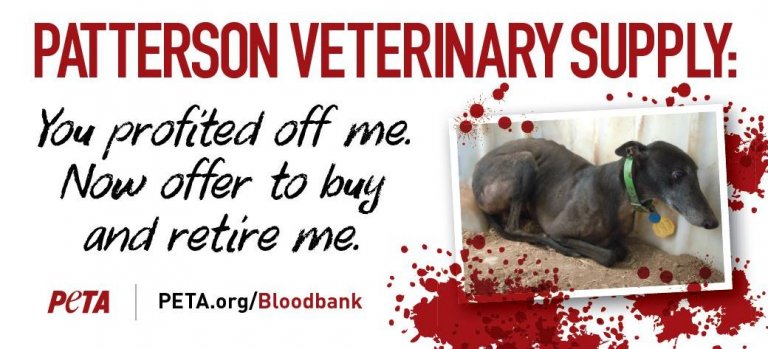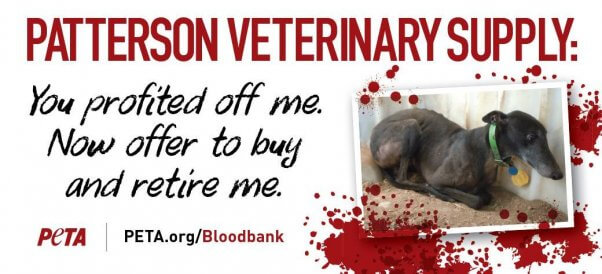 The mobile ad will circle the company's headquarters at 1031 Mendota Heights Rd. and busy shopping areas for a week, from Thursday, October 5, through Wednesday, October 11.
Get the dogs out, NOW! A heartbreaking mobile ad with a powerful message is going around #StPaul to tell @Patterson_Vet to help retire dogs. pic.twitter.com/5VY9XnSVpr

— PETA (@peta) October 5, 2017
"Patterson Veterinary Supply has turned its back on the dogs kept in dirt runs at this blood bank," says PETA Senior Vice President of Cruelty Investigations Daphna Nachminovitch. "PETA is calling on this billion-dollar company to buy these used, miserable dogs and allow reputable greyhound rescue groups, which are standing by, to take them in and find them good homes."
Patterson declined an invitation to meet with PETA three days before the group's exposé was published online and in The Washington Post. Patterson's only public response came after more than 40,000 people e-mailed CEO James Wiltz to urge the Fortune 500 company to use its resources to secure lifetime care for the dogs. Since then, thousands more people have echoed the call, including on the company's Facebook post about PETA's exposé.
For more information, please visit PETA.org/Bloodbank.