First, UPS sent our tabling gear to the wrong address. Then our 8-foot-tall "Wheel of Torture" was too big to fit in the van and had to be secured to the roof. Then the quixotic Nebraska weather conspired to blow down our tent not once, but twice—in front of snickering cowboys assembled in the nearby rodeo arena. Undeterred, our hardy band of workers forged ahead to erect PETA's first-ever booth at the Nebraska State Fair—and their efforts have paid off.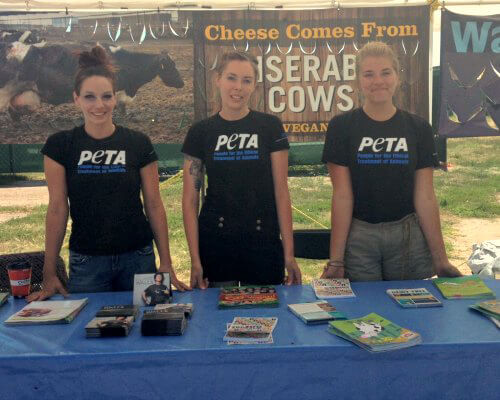 The booth featured mascots waving signs that read, "Cheese Comes From Unhappy Cows," as well as the aforementioned prize wheel, which visitors could spin to win various prizes, including vegan recipes, a Paul McCartney DVD, and an invitation to go inside the booth and watch a video narrated by Academy Award–nominated actor Casey Affleck that exposes cruelty to cows in the dairy industry. It features graphic footage of dehorning, in which calves' horn buds are chemically burned off or their horns are mechanically gouged out as the animals thrash and cry out in pain.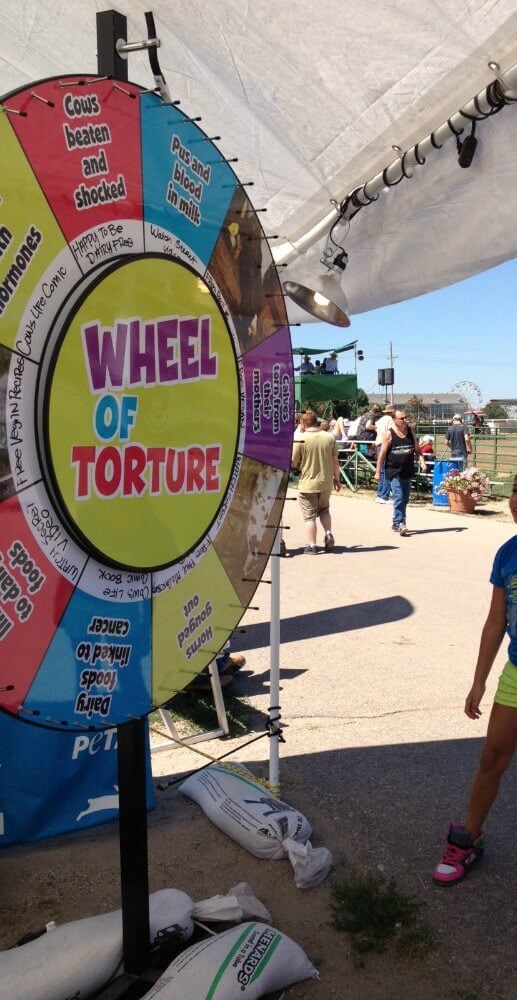 Visitors also learned about dairy factory farms' impact on the environment, including water pollution, land degradation, and the greenhouse-gas emissions responsible for climate change, and that the consumption of dairy products has been linked to heart disease, strokes, diabetes, and cancer.
In addition to the enormous prize wheel, curiosity seekers were drawn to PETA's booth by local news stories. Our vegetarian/vegan starter kits were a big hit, and hundreds of people watched the video and learned about the dairy industry's dirty secrets.