It's a victory that will prevent more sheep from being abused in horribly painful tests! New documents recently obtained by PETA show that the gruesome decompression experiments on sheep that the U.S. Navy had been funding—which had been awarded more than $389,000 in taxpayer money—at the University of Wisconsin–Madison have been abruptly stopped up to two years ahead of schedule, following our letter to Secretary of the Navy Carlos Del Toro.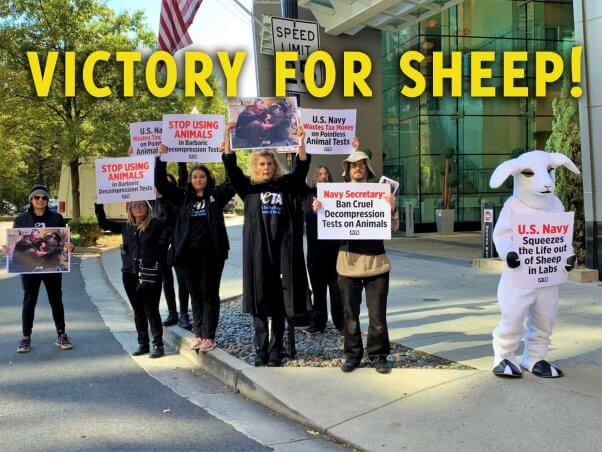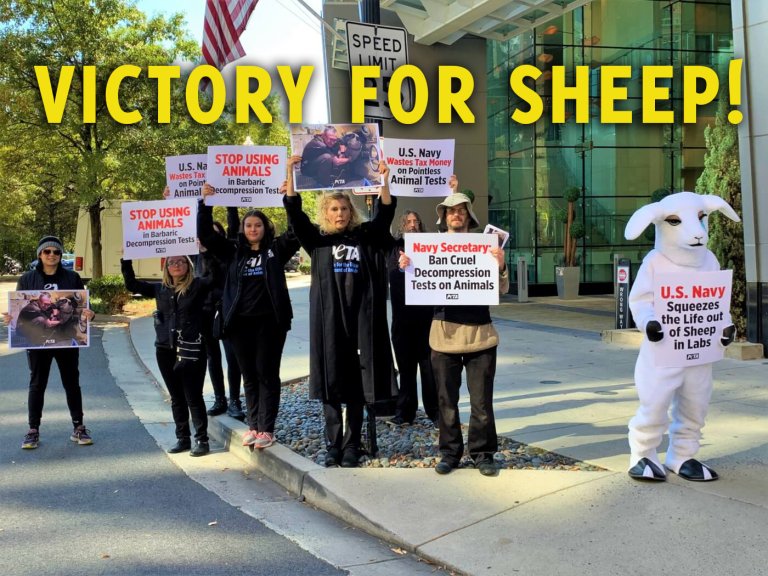 The sheep formerly slated for these tests will be spared the agony of cardiovascular collapse, spinal cord injury, and paralysis. In one Navy-funded decompression experiment at UW-Madison initially approved from August 11, 2020, through August 10, 2023, an internal university investigation found that on October 11, 2021, "the compressor for the [hyperbaric] chamber was not working" and that two healthy sheep placed inside the chamber showed "signs of discomfort" and were euthanized. This study and a separate Navy-funded decompression experiment at UW-Madison initially approved from June 2, 2021, through June 1, 2024, examining survival rates and cardiopulmonary function in sheep subjected to long-term exposure to hyperbaric air were both "terminated" on July 19, 2022, well ahead of schedule.
This action follows the Navy's decision to pull its funding for similar tests on sheep at UW-Madison in 2010 after a criminal probe was launched in response to a petition filed by PETA and Alliance for Animals, for which a court-appointed special prosecutor at that time reported, "The Department of the Navy has pulled its grant and the [decompression] research using sheep has stopped. In reviewing the more recent literature, it appears that the efficacy of these types of studies is now in question."
Having recently sent a letter to Secretary of Defense Lloyd J. Austin III, protested at high-profile military events, and urged nearly 60,000 people to contact top military brass and after sending a new letter to Del Toro today, PETA is continuing to lead the push for a ban on all such cruel decompression and oxygen toxicity tests.
Such experiments can never be legitimately justified, and they don't advance human health one little bit.
https://www.tiktok.com/@officialpeta/video/7164582108781137198
What You Can Do 
Please urge the Navy and the U.S. Department of Defense to get in line with international standards by not supporting deadly and pointless decompression and oxygen toxicity experiments on any animals at any institutions—and by backing superior, human-relevant, non-animal research methods instead.