I've posted a couple of pictures in the past with some of the lovely ladies of PETA getting nekkid to help animals, so I figured it was high time I published a few pics of the dudes. This photo's from a Tax Day demonstration conducted by PETA Campaigner Mike Brazell in Philadelphia to let people know that donating fur coats to PETA is tax-deductible. Mike quickly recognized that, while this is an important and useful piece of information, it doesn't exactly grab the attention like some of PETA's campaigns—so he did what any resourceful campaigner is trained to do in a difficult situation and removed his clothing. Nice work, Mike! Here are the results: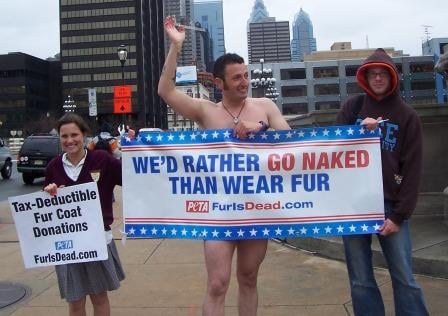 These particular photos reminded me of one of my favorite stories about my friend Matt Rice. PETA had sent out a press release about a demonstration that was going to take place in Corpus Christi, which went something like this:
"Nearly naked and covered head to toe in tiger body paint, one of PETA's beautiful "Tiger Ladies" will be in a cage in Corpus Christi this Friday to protest the cruel treatment of animals in the circus"
The press release did the trick, and a ton of media promised to come out and report on the event, which was all well and good until Matt got a call from the "Tiger Lady" at the last minute to say she couldn't make it. Fortunately, nothing fazes Matt Rice. Here's how he handled the crisis:
Rawr! Matt, you're a hero.
If for some reason you're still starving for pics of scantily clad PETA dudes, you can check out our old Broccoli Boys website here. That'll cure you for sure.