When news broke of PETA's investigation of the conditions in which alligators and crocodiles were being raised for "luxury" brand Hermès, social media exploded with outrage.
Word spread fast—with millions of views, shares, and reposts across Facebook, Twitter, Instagram, and Snapchat. Even celebrities joined in the social media uproar.
PETA posted the breaking video on Facebook.
Across all of PETA's channels, the video has been viewed more than 19 million times!
We showed where many of those watchbands and Birkin bags really come from on Instagram.
We also shared the investigation on Twitter.
ICYMI: New PETA investigation shows alligators cut into while conscious for #Hermes [GRAPHIC] http://t.co/6FnQTdWG4J pic.twitter.com/fL5owutrI1 — PETA (@peta) June 27, 2015
Rapper Waka Flocka Flame responded.
That's really fucked up and low https://t.co/VJnsEfBOeK

— Waka Flocka Flame (@WakaFlocka) June 24, 2015
The Veronicas told their followers never to stay silent.
These animals deserve our protection! Instead they're brutally killed for fashion. Never stay quiet. Ask for change https://t.co/XLpD4Z52Of — The Veronicas (@TheVeronicas) June 24, 2015
Bonnie-Jill Laflin was equally outraged and was shown on Snapchat at a demonstration.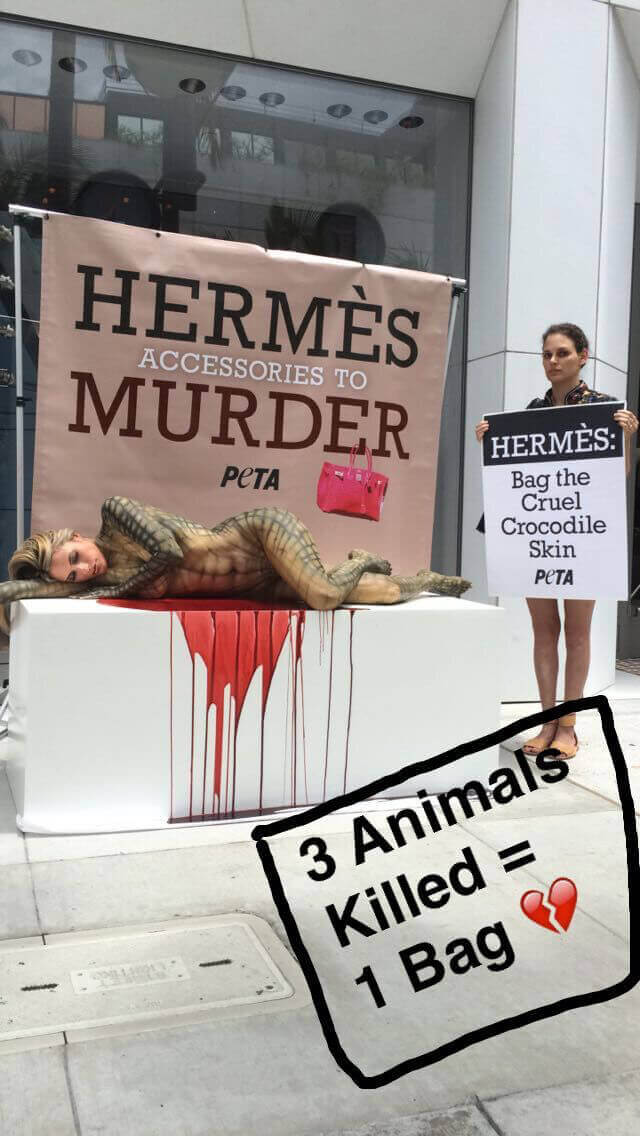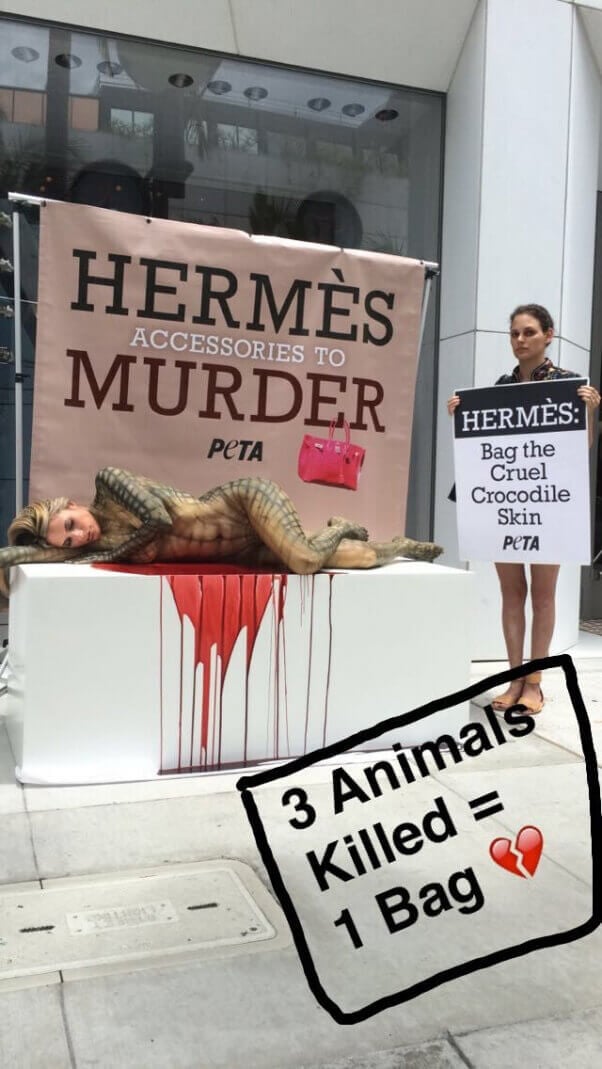 She showed up on Rodeo Drive as a "slaughtered crocodile" with a message.
Crowds of people surrounded her—and even more shared the video on Twitter.
THREE animals are killed for ONE #Hermes crocodile bag. http://t.co/6FnQTdWG4J #Killed4Hermes pic.twitter.com/KQ4wusT08D

— PETA (@peta) July 1, 2015
We doubled down on our campaign against Hermès when we released our investigation inside the largest ostrich slaughter companies in the world, including the exclusive supplier of ostrich skin for Hermès Birkin bags. PETA's investigators filmed workers forcibly restraining terrified ostriches, electrically stunning them, and then cutting their throats.
The shocking video was our first to break 1 million views on Instagram, generated the most visits to our site in a single week, and has since been shared hundreds of thousands of times.
Want to do more for animals?
Take action by demanding that Hermès stop selling items made from crocodile and alligator skins here.
Follow PETA on Facebook,  Twitter, Instagram,  and Snapchat (@OfficialPeta) for more news and breaking investigations.