In yesterday's midterm elections, Missouri voters approved a measure that gives dogs who are mass bred in puppy mills some long overdue relief. Missouri holds the unenviable distinction of being our nation's puppy mill capital. The state is home to more than 1,400 commercial (or as the American Kennel Club likes to call them, "high-volume") breeders who subject dogs to miserable lives in cramped, filthy hutches, cages, and pens.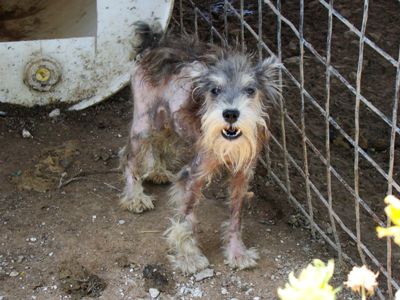 Dogs in puppy mills are treated like breeding machines and discarded, killed, or auctioned off when they're too old or worn out to "produce" anymore. They are not shown love or given a kind word, and they are never treated to a walk, a belly rub, or a game of fetch.
Proposition B, which goes into effect next year, will eliminate stacked cages, which have been known to cause dogs to develop "cage spins"—a condition in which animals turn manically in endless circles as a result of intensive, continuous confinement. Breeders will be "limited" to no more than 50 females, who can't be bred more than twice every 18 months. It's estimated that about one-third of the state's puppy profiteers currently breed more than 50 females, so this bill should, we hope, reduce the number of puppies born, sold, and shipped out of the state to pet shops all over the U.S. (The vast majority of puppies sold in pet shops—even hoity-toity ones—come from puppy mills!)
It's hard to believe, but the measure also had to spell out to breeders that they must feed animals once a day. It also mandates annual veterinary checks and requires that dogs be housed indoors with unrestricted access to an outdoor exercise area.
Keep cheering: Washington and Oregon have also recently toughened laws against puppy mill operators.
This is great news for dogs, but make no mistake: As long as people buy instead of adopting, the suffering will continue. Never buy from pet stores—which are basically puppy mill outlets—and tell everyone you know that those stores' "inventories" come straight from the factory.
Written by Jennifer O'Connor