Mickey Rourke's ABC Ad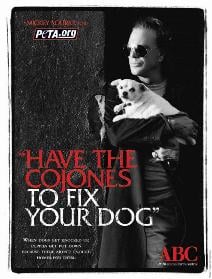 Ah, awards season. My favorite time of year. Last night I watched the Golden Globe Awards on pins and needles, and I've already begun my countdown to the Oscars. But the best part of the Globes last night wasn't Sacha Baron Cohen making everyone squirm in their seats while he rightfully hated on Madonna—it was Mickey Rourke's win for his role in The Wrestler and his moving and heartwarming thank-you speech.
While Rourke thanked his co-stars, his agent, and, yes, even Bruce Springsteen, the most memorable part of his speech was when he thanked his dogs and said, "Sometimes when a man's alone, that's all you've got is your dog. They've meant the world to me."
Well said, Mickey! I think we can all relate to that. It's about time for the furry, loyal companions who give so much love and adoration to their guardians to get recognized.
Another animal-friendly winner we love from last night was Alec Baldwin for his role in 30 Rock. Although he's been in roughly 5 trillion films and TV appearances that have all been brilliant, he'll always be our own special star for his fantastic narration of "Meet Your Meat."
Written by Christine Doré