Vick drops the ball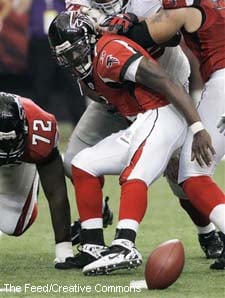 You've probably heard by now about the alleged dogfighting ring that was uncovered in a raid on Michael Vick's property last week. Vick has been vigorously denying any involvement in the operation, and I really, really want to believe him, because he genuinely is a fantastic quarterback. Unfortunately, the man's versatility in the pocket is at best dubious proof of his innocence in this case, and things are looking even more bleak for the Falcons QB after Deadspin reported on another apparent link between Vick and the property. According to info published on Deadspin:
"A Web site associated with a Michael Vick company, MV7, LLC, professes to be in the business of breeding pit bulls and other dogs as pets not for fighting. VicksK9Kennels.com states that, "We do not promote, support or raise dogs for fighting and will not knowingly sell, give, or trade any dog that may be used for fighting." The property Vick owns in Virginia where dozens of dogs were confiscated last week in a dog-fighting investigation is listed as the address for the Web site and the company, 1915 Moonlight Road, Smithfield, Va."
Um, yeah. We're still calling on the Falcons to suspend Vick until this has been cleared up, and to release him from the team if animals on his property are found to have been neglected or used for fighting. For my own part, unless he is able to absolve himself completely of all this, I will not be selecting Michael Vick for my fantasy football team this year. It's called tough love, Michael.
See Also: