UPDATE: Two protesters got dragged out of the Westminster Dog Show just before the Best in Show ceremony after they rushed toward the main floor holding signs reading "Shelter Dogs Lose Today" and "Breeders Kill Shelter Dogs' Chances."
Originally posted on Tuesday, February 17:
People attending the Westminster Kennel Club Dog Show were greeted by a poignant sight: a throng of PETA supporters—some of whom were caged—wearing dog masks and holding signs proclaiming, "Shelter Dogs Lose Today," to remind everyone that Westminster encourages the breeding of unhealthy purebred dogs while 6 to 8 million homeless animals end up in animal shelters every year, half of whom must be euthanized for lack of a good home.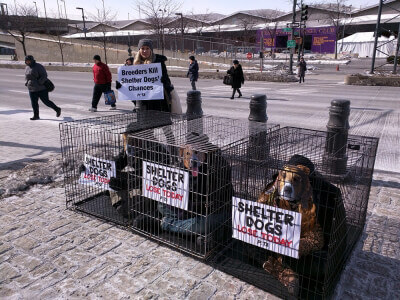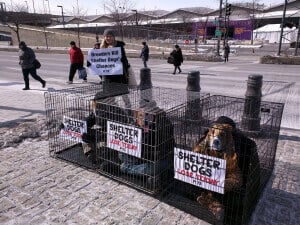 All of the new puppies breeders bring into the world in the hope of producing a champion will either fill homes that could have gone to dogs in animal shelters or end up homeless themselves. (About a quarter of all dogs in shelters are purebred.) Dog pageants such as Westminster also drive interest in purebreds and encourage people to buy dogs from breeders, while thousands of lovable, friendly, healthy dogs sit in animal shelters across the country, waiting to be adopted but often in vain.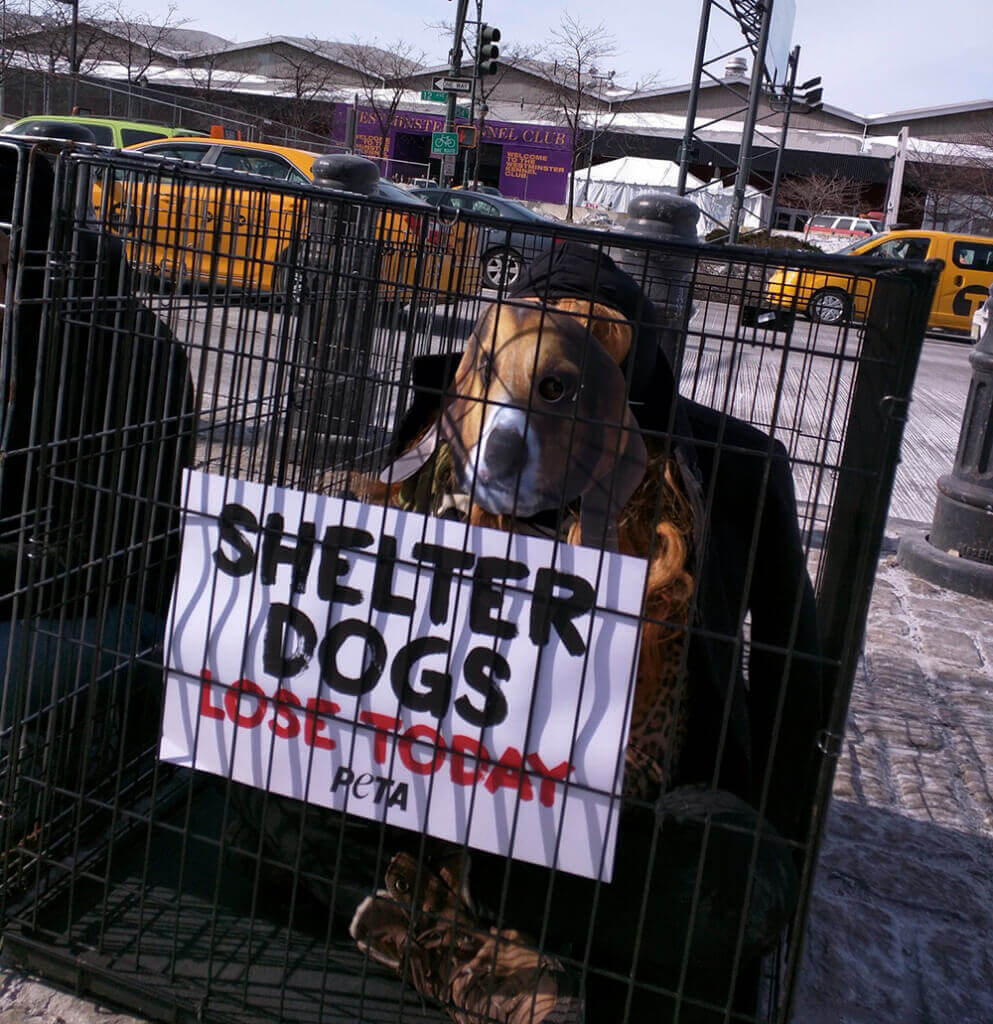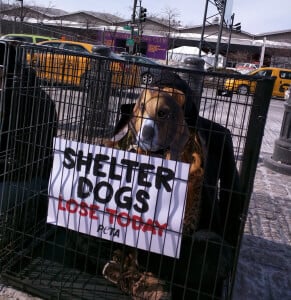 Dogs who are bred to conform to the American Kennel Club's "breed standards" suffer, too. Breeding dogs to have distorted physical features—such as dachshunds' stretch-limousine backs and bulldogs' flattened faces—often causes debilitating, life-long health problems that make it difficult for some to walk or even breathe normally. Inbreeding—a practice commonly used to pass down traits favored by show judges—greatly increases dogs' risk of hypothyroidism, epilepsy, cataracts, allergies, heart disease, hip dysplasia, and many other debilitating afflictions.
If you have the time, willingness, and resources to care for a dog for life, please make a homeless pup a winner by adopting from an animal shelter and having your new animal companion spayed or neutered—never buy animals from breeders or pet stores.