The following is a post that originally appeared on PETA Prime.
Because of your support, PETA is able to work in local communities, helping individual animals in need. Thousands of animals are helped by PETA's Community Animal Project (CAP) each year. This is the second in a series of posts chronicling the work of CAP—this post is from Amanda Kyle, fieldworker for CAP. The first post can be found here.
As a CAP fieldworker, I was out one day delivering doghouses and straw bedding to dogs who are forced to live outdoors when a passerby alerted me to two semi-feral dogs suffering from severe skin infections. When I stopped by to check on the situation, I found these two frightened puppies living on what appeared to be an abandoned property. They wouldn't let me get close enough to touch them. Both dogs had bloody sores and were missing a lot of hair. No one was home, so I left a note, gave the dogs food, and put straw bedding inside a wooden box that seemed to serve as their "house."
I tried for several days to track down these suffering puppies' guardian—I talked to neighbors and stopped by at different times but could find no one who seemed to know anything. The puppies had been surviving off scraps that neighbors and passersby left for them.
Days later, when I stopped by, this time at night, the temperature was 18 degrees, and the note I left the first day was still on the door. I couldn't leave these puppies out there any longer. I can't even imagine how painful the below-freezing temperatures must have felt on their cracked, bleeding skin. I spent hours trying to catch these poor, frightened puppies, and I finally succeeded in coaxing them into carriers.
A vet determined that they both had a severe case of mange covering about 80 percent of their bodies. Their skin was also badly infected from the bleeding wounds, and they were suffering from a severe hookworm infestation. The vet who examined them gave medications to give them a little relief while we continued our search for the puppies' guardian, but the vet recommended euthanasia because of the severity of their condition. By this time, the two puppies seemed to have realized that my team and I were all there to help, and they warmed up to us quite well. They even let us pet them, so we were able to give them the love and attention that they craved—likely the only time they'd ever received any at all.
While I spent several more days trying to track down a guardian for these pups, another one of our fieldworkers brought the puppies home to stay with her and her two dogs. For those few days, these two sweet pups got to experience things that all dogs deserve to have every day, all their lives—shelter, regular meals, veterinary care, companionship, and compassion.
Even though the puppies were so much better off than when I found them, they were still suffering terribly. The medication gave them only a little relief from the infections that had grown so severe during the months with no medical treatment and poor nutrition. Had I left them where I found them—abandoned, freezing, and hungry—their condition would only have gotten worse and caused them even more pain over the days or weeks before they succumbed to their ailments. They likely would have died a miserable death. Because of their terrible suffering, we took the veterinarian's recommendation of euthanasia and gave these angels a peaceful release from their pain and suffering.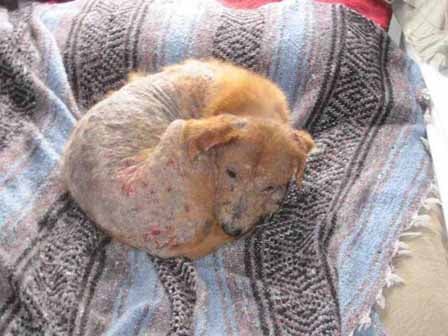 Even though this was such a sad case, I'm so thankful that we got the chance to give these dogs some care and much-needed relief. Part of what is so important about CAP's work is that I get to help animals for whom no other help is available. PETA's spay-neuter clinics are lowering the number of homeless animals in this region so that in the future, all pups (and kittens) will be born into loving homes, not on the streets. Until that day, we won't turn away from those who are in need, even though our hearts break while carrying out this work.
Amanda Kyle goes out into the community every day to rescue and improve the lives of animals in PETA's own neighborhood.