Amy from the VegCooking blog here. It's that time of the year again for The Great American Meatout—the annual grassroots diet education campaign. Supporters worldwide donate a little of their time to educate the public about delicious vegan cuisine by giving speeches, leafleting, providing food samples, and giving cooking demonstrations. This is exactly where I come in.
I'm confident in saying that I am more of a food expert than Jack, who has admitted to making the same meal for dinner every night for months at a time, which is why I'm here to share a Meatout recipe with you. Trust me, you should be happy it's me and not Jack. He would tell you to open a container of store-bought guacamole and just call it a day.
Since the goal of this day is to encourage meat-eaters to kick that nasty habit (and take the pledge to be veg), I think it's the perfect time to feature a faux-meat recipe. Sure, there are many great products you can buy from the store that require little to no preparation (a few good ones to try are the Morningstar Farms Meal Starters, Boca Chik'n Patties, and Tofurky slices), but if you want to put in a little extra effort—which might be all that's needed to convince your loved ones that they, too, can go veg—try this recipe below for mock crab cakes served up on toasted crostini and topped with a little lemon-dill mayo. Yum.
When your loved ones are done eating, and in awe of how fantastic vegan food can be, don't forget to ask them to take the pledge to be veg.
—Amy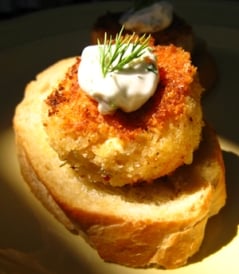 Mock Crab Cakes With Lemon-Dill Mayo
For the Cakes:
1/2 cup finely diced onions
1/4 cup finely diced carrots
Oil for sautéing
2 tsp. minced garlic
2 lbs. firm tofu, crumbled
1 1/2 Tbsp. cornstarch
1/4 cup nutritional yeast
1/8 cup dry white wine
1 Tbsp. salt
1/2 tsp. ground white pepper
Juice of 1 lime
Sauté the onions and carrots in a little oil until soft, about 3 to 5 minutes.
Add the garlic and sauté 1 minute longer. Let cool completely.
Add the remaining ingredients, mixing well. Let cool in the refrigerator for 30 minutes.
For the Old Bay Breading:2 cups panko bread crumbs3 Tbsp. Old Bay seasoning2 tsp. kosher salt1 1/2 tsp. pepper
Pulse the panko bread crumbs briefly in a food processor to form a medium-grain crumb.
Add the Old Bay, salt, and pepper and mix well.
To Assemble:Tofu mixtureOld Bay breadingOil for sautéing 1 BaguetteOlive oil for brushingLemon-dill mayo (see recipe below)Dill for garnish (optional)
Preheat the oven to 450°F.
Form the tofu mixture into 1 1/2-oz. cakes. Dredge the cakes in the breading mix, being certain to cover all surfaces completely.
Sauté the cakes in a little oil over medium heat in a large, flat-bottomed pan for 3 to 5 minutes on each side, or until browned and crispy.
Slice the baguette on the diagonal into 1/2-inch slices, then brush each side with olive oil.
Bake the baguette slices for 3 to 4 minutes, being careful not to toast completely. Remove from the oven.
Top each crostini with one tofu cake, a dollop of lemon-dill mayo, and dill garnish, if desired.
Lemon-Dill Mayo1/2 cup vegan mayonnaise (try Vegenaise)1 tsp. grated lemon rind 1/2 Tbsp. lemon juice1/2 tsp. dried dill weed1/4 tsp. garlic powder1/4 tsp. hot sauce (optional)
Combine all the ingredients in a small bowl and stir until just combined. Chill until serving.