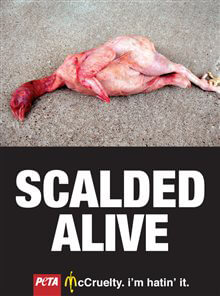 How do you convince lawmakers to turn a blind eye to the devastating effect that fast food has on our health? If you're McDonald's, you spend more than $1.1 million (in 2011 alone) lobbying political representatives. YUM! Brands, the owner of KFC, wasn't far behind, at $845,000.
The Center for Responsive Politics reports that the food industry "has been fighting Congress in recent years over nutritional requirements, labeling information and advertising. Fast food restaurants in particular have faced pressure due to their aggressive marketing aimed at children."
So, McDonald's and KFC both have about a cool mil lying around that they could put toward switching to controlled-atmosphere killing, a slaughter method that would prevent chickens from having their throats cut while still conscious and often being scalded to death in defeathering tanks. But instead, both companies spent it asking politicians to play fast and loose with Americans' health.
Click here to tell McDonald's and here to tell KFC that you're hatin' the way that they torture chickens. I think I know where they can find a tidy sum of cash to get started making changes.