It's Cat Week, and as much as I want to post cute photos of my newly adopted cat, here instead are seven items adapted from "The Alwayses and the Never-Evers Checklist," from PETA President Ingrid E. Newkirk's insightful book 250 Things You Can Do to Make Your Cat Adore You. Following the complete list will help you make every single week of your cat's life the best it can be.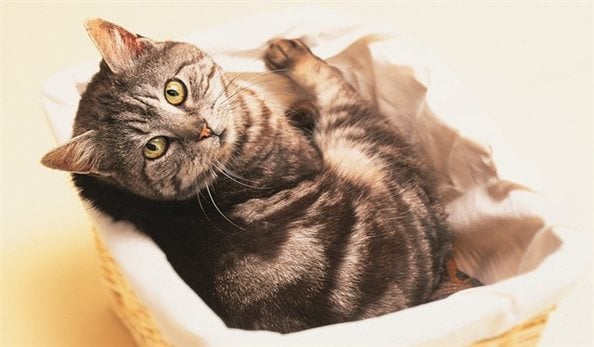 © Digital Vision | Cats and Dogs | Getty Images
I have spayed/neutered my cat(s).
I never let my cat(s) out unattended (give yourself two points if you have provided an escape-proof yard or other cat exercise area).
I take time to play with my cat(s) every day, even on days when I feel sick, might be fired if I'm late for work (giving you even more time to play with your cat later), or have an important date.
I always keep the litterbox impeccably clean—making like Raisin Bran and doing (at least) two scoops a day. I empty and clean the entire box at least once a week (more often if you have multiple cats).
My cat(s) can see out and lounge in the sunlight of at least one window without having to behave like a contortionist.
I am prepared to take my cat(s) with me at a moment's notice in case of an emergency or natural disaster. I have an emergency kit with a carrier and food and water, and my cat(s) always wear identification tags. (Microchipping is also recommended in case you do become separated.) I also have emergency stickers on my doors and windows asking firefighters/police to rescue my animals in case I am not home during an emergency.
To read the entire checklist, pick up a copy of 250 Things You Can Do to Make Your Cat Adore You or click here to read a longer excerpt. There's no time like Cat Week to promise your cat that you will do everything you can to make him or her adore you.
(And if you would like to see photos of my cat, please let my boss know in the comments section.)
Written by Heather Faraid Drennan